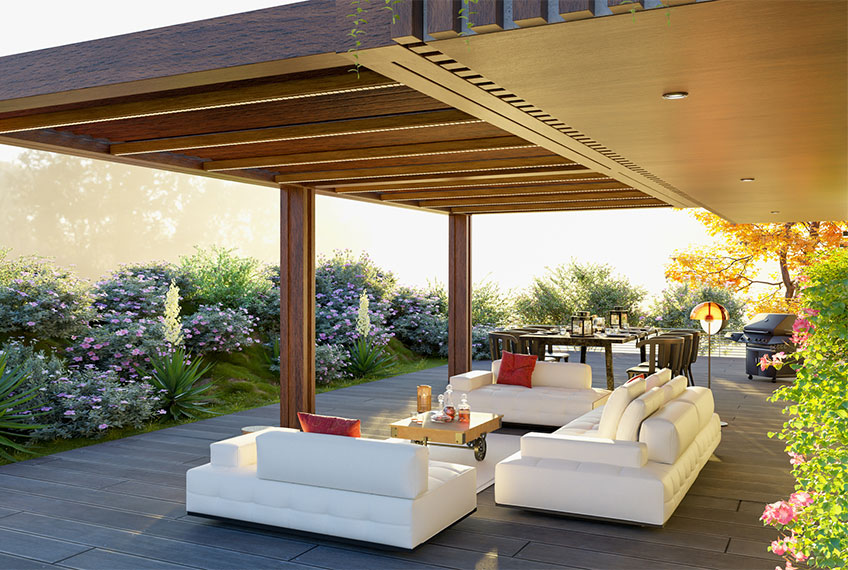 For many homeowners, having a hideaway in the backyard is the ultimate dream, and for good reason. Who wouldn't want their very own backyard oasis to entertain visitors at night and peacefully unwind in during the day? Constructing the ideal backyard sanctuary involves installing a pergola. You may be wondering, "Will a pergola add value to my home?" In short, it is likely so. Pergolas are a worthy investment for homeowners who are looking to boost their home's outdoor living space. In this post, we'll be uncovering some of the reasons why your pergola may add value to your home and factors that affect the actual value.
Rising Trend of Outdoor Spaces
One of home design's fastest-growing trends is outdoor living spaces. Every buyer appears to be searching for properties that already have a stylish and appealing outdoor area on the property.
You may create an outdoor living area in your backyard with a pergola that will be popular for gatherings throughout the summer. Consequently, if you decide it's time to sell your house, adding a pergola to your property might raise its appeal and value.
Increasing Curb Appeal
First impressions count. Having a pergola not only increases the value of your property but also enhances the curb appeal of your house since this outside structure may act as an extension of your home. Be sure to choose a design that matches the aesthetic of your home so that everything looks visually cohesive.
Pergolas Provide a Space for Outdoor Dining
Even if you don't enjoy cooking outside or throwing informal backyard gatherings, a pergola may serve as a functional outdoor dining area.
You might be able to add sofas and other larger pieces of furniture depending on the design and style of your pergola, so you and your family can enjoy meals outside on days with good weather. This is attractive to potential buyers as well.
Depending on several factors, the increase in value you'll get on your property by installing a pergola will depend on several factors.
Area in Which You Live
Without a doubt, areas with warmer temperatures tend to see outside home improvements occur more frequently. They can be very useful during the summer.
If you live in a warm climate with your family, you'll probably utilize the pergola more as you attempt to escape the sweltering heat.
This means that a buyer of a property in such a location will be willing to pay more for the residence with a pergola than for one without.
Type of Pergola
The type and design of pergola you build may have an impact on the value added to your home.
There are several varieties of pergolas, each with a different design, size, and construction method. Both the installation and maintenance expenses are impacted by this.
As expected, stronger materials will cost more and likely enhance the pergola's style and class factor.
Teak, aluminum, cedar, and fiberglass are all common building materials for pergolas.
Here are some of the most popular pergola designs:
Gable- or pitched-roof pergolas.
Pergolas with an open top (arched or flat).
Size of the Pergola
It's important to keep in mind that when the time comes to sell, your home's value will be greatly determined by the size of the pergola.
A larger pergola usually has a higher value in addition to greater aesthetic appeal.
A pergola that fits perfectly into your backyard will also offer great style and an appealing look. Ultimately, the more attractive it makes your home look, the more valuable your property becomes.