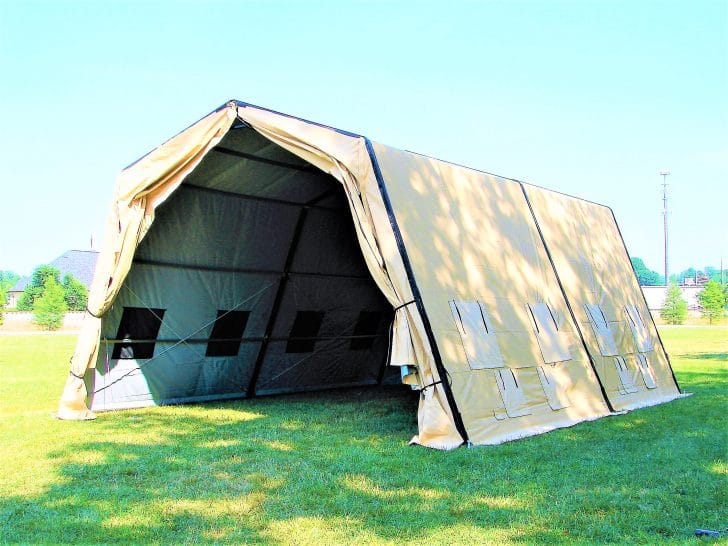 Military & Government GSA Contract Shelters
Anchor provides tents and structures for every imaginable type of project you have in mind. No matter your event type, size, budget, or style, Anchor is sure to have a tent that is perfect for you.
For official military purposes, we have Vehicle Maintenance Shelter to house your military personnel, equipment, or vehicles. To host your family parties or gatherings, you can consider The Original Party Tents or Party Mate Tents as hassle-free options. For smaller-scaled weddings, parties, or gatherings, the Century Tents, Century Mate Tents, as well as the Century Frame Tents. These are simple yet elegant structures to serve you and your guests.
For more customizable and complex designs, you can look for Fiesta Tents, Navi-Trac Frame Tents, and Navi-Trac Lite Frame Tents. These include more options for you to choose from and customize, as well as include additional accessories to suit the style of your event. For example, there are options for clear roofs and windows for romantic, star-gazing events. These tents are suitable for larger-scaled weddings, banquets, and other important events. They are sure to elevate your outdoor space into a beautiful indoor arena.
No matter the structure, you can be at ease knowing that they are secure, safe, and sturdy structures that are of industry-standard. Order a variety of Anchor shelters, tents, and structures through GSA via Anchor.
Anchor Products on GSA:
If you have any questions about ordering our Military & Government GSA Contract shelters, feel free to contact us today.
Gallery