From finding the perfect location to choosing a company that rents clear top tents for weddings, there's a lot to consider when planning an outdoor event.
Hosting your wedding outdoors can give you the perfect backdrop, with a picturesque setting that completes your theme. Of course, there are myriad things that can go wrong or be overlooked, so you need to make sure that your planning is comprehensive, right down to the smallest details.
Whether you work with a planner or decide to go DIY with your wedding, it helps to know some basic points to cover. Here are six things that you cannot ignore as you get ready for the big day.
1: Create a Focal Point
Every wedding needs a great focal point, and we aren't just talking about the bride and groom. For the ceremony, the focal point will be the stage or altar, etc. For the reception, the focal point will usually fall upon the main table, or possibly the catering table and wedding cake.
If you are creating a specific theme for your wedding, make sure that you consider how this could tie into a focal point. Take a look at wedding blogs or even wedding videos from friends and family to get inspired.
2: Check the Venue Before You Commit
So, you think you've found the perfect location to host your outdoor wedding. It's beautiful with the perfect balance of natural beauty, and maybe even a key architectural feature. Before you commit to the venue, make sure you visit it with your partner and ensure that it's going to be suitable for your event.
What kind of amenities are offered on the site? Is there a power hookup or will you need to rent generators? Is the venue in an easy to find location, or will you need to provide detailed instructions to all of your invited guests?
Remember that a venue is not just about aesthetics. Convenience is important, too. Make sure that the venue looks great, and that it has space and amenities for all of your guests and any special additions that you want to bring to your celebration.
3: Get Your Lighting Right
Lighting is critically important. Unfortunately, it's something that many DIY wedding planners overlook. If you will be hosting your ceremony during the day in the open air, then lighting probably won't be a major concern. However, if you will have the reception within a tent, you will need some form of lighting for both atmosphere and guest safety.
Clear top tents for weddings can overcome many of the typical lighting challenges for a morning or afternoon wedding. Natural light will flow through the tent, reducing your reliance on artificial light. If your reception will extend into the evening, you will need to consider lights within your tent. There are countless options for hanging lights that can make your wedding feel magical. Fairy lights and bottle lights are popular for weddings set at an outdoor venue.
Certain tent designs, such as frame and pole tents, will even offer reliable mounting options for overhead lights and other decorative features.
4: Get Your Permits in Order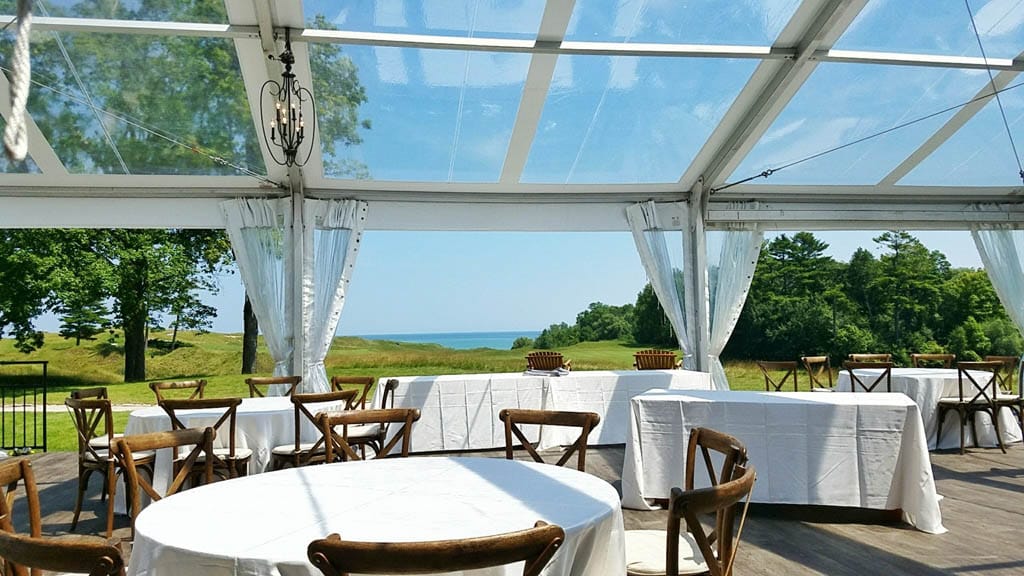 Most city and municipal park services will offer permits for weddings that are held on public grounds. This allows you to make use of beautiful picturesque locations for a nominal fee.
Of course, you can't simply choose a location and then turn up on your big day. That could quickly get your wedding shut down and leave you in a serious legal predicament. Instead, ensure that you speak to the relevant local authorities to ensure that you have permits in order.
Ask specifically about what you can and can't do on the property.
Can you set up clear top tents for your wedding reception?
Is it permitted to serve food and alcohol?
Where can guests park?
Do you need to take trash off-site or are there collection services available from the city?
What are the valid hours for your permit?
Be sure to read the fine print on any permit or agreement that you sign. It's much better to ask too much rather than to make mistakes that could incur fines or additional charges.
5: Consider the Weather and How it Will Impact Guest Comfort
The weather could make or break your wedding celebration, especially if you haven't planned for shelter. No matter what you do, always keep in mind that the weather forecast is never guaranteed. Even a light shower could throw all your planning out the window, inconveniencing your guests and potentially ruining table settings and any expensive equipment that you have hired.
Clear top tents for weddings are perfect when you want the outdoor feel but with shelter for all your guests. In warmer climates, you should consider cooling your tent with mobile air conditioners or evaporative coolers. At the very least, you'll need fans placed strategically to ensure that there's adequate ventilation.
6: Find a Local Company for Clear Top Tent Rentals
Open-air weddings might seem like a great idea until unpredicted weather comes rolling in to spoil your day. You can enjoy the beauty of your venue without compromising an open feeling by hiring clear top tents.
Look for a local supplier that offers clear top tents for weddings. A frame tent would be the best choice for mid and large-sized weddings. You'll need to consider things like the cost, special terms, and the types of tents that are offered for rental. It's important to work with a company that stocks models from the top manufacturers. If you insist on the highest quality and reliability, Anchor Industries tents will be your best bet for a stress-free day.
These six steps will help you to plan your wedding and the logistics surrounding it. Any extra effort you put in now will result in the best experience when your big day arrives.