Funbrella® commercial patio umbrellas from Anchor Industries are some of the most durable shade products on the market. Designed for simple use and minimal maintenance, these umbrellas are perfect for businesses that want long term returns and convenience.
While maintenance needs have been minimized, it's still important to regularly inspect and service your umbrella parts.
Here's how you can prolong the life of your umbrellas.
How Often Should You Maintain a Funbrella® Commercial Patio Umbrella?
Anchor industries products are made to stand up to years of frequent use. Maintenance should be performed at least once a year. It is recommended to carry out a full inspection of all your umbrellas in the spring before you set up, or in the autumn when you pack your equipment down. If you use your umbrellas year-long, then choose a regular maintenance schedule that is convenient for your business.
Frame Maintenance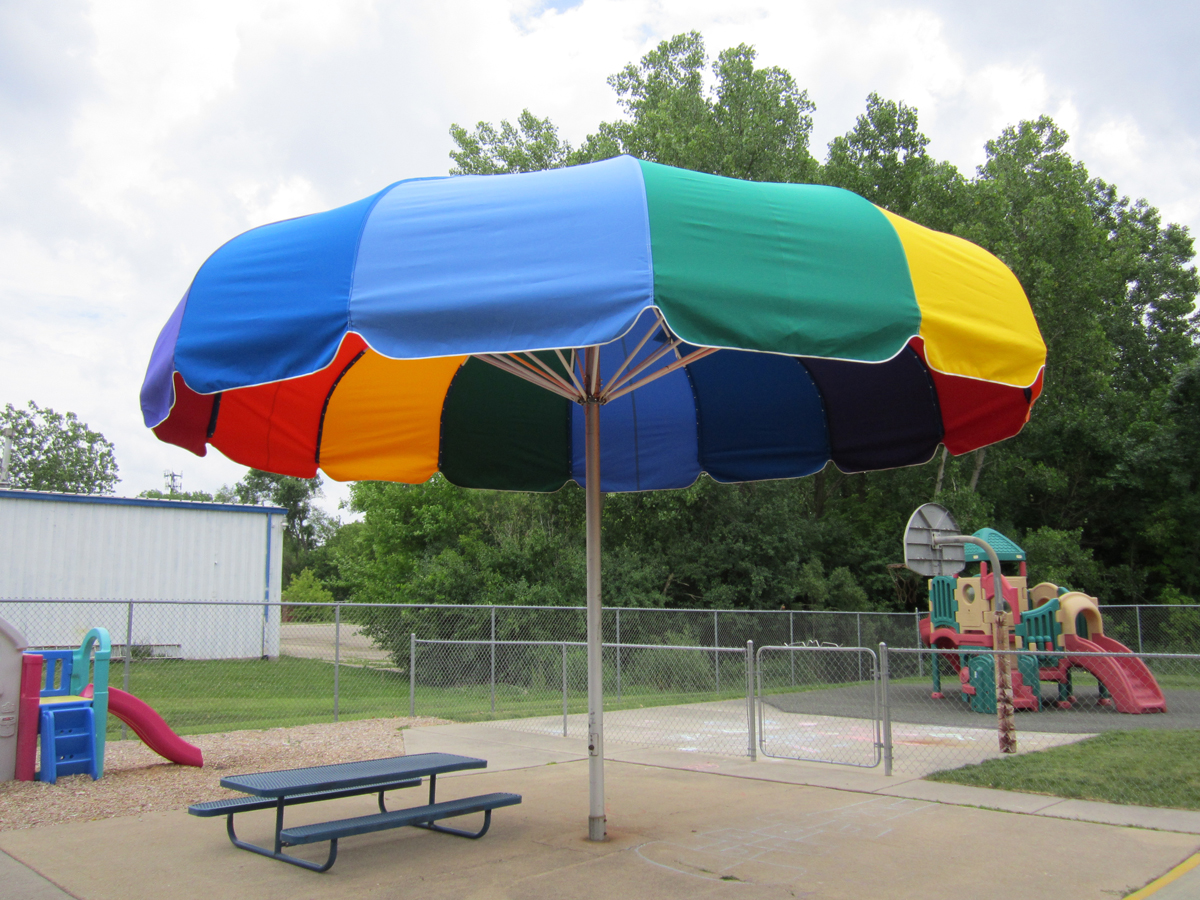 The frame of your umbrella is designed to withstand frequent raising and lowering, as well as strong wind gusts of 3 seconds at 90 miles per hour.
When performing yearly maintenance, look for the following.
All bolts fastening the top casing to the center pole should be secured. Although unusual, bolts may loosen over time with frequent use. Tighten any bolts as necessary and replace any that have become worn or corroded.
Aluminum castings at the top and bottom of the commercial patio umbrella frame should be in good condition with no cracks or wear around bolt holes.
Bows and braces should be inspected to identify breaks or wear around the metal and bolt holes.
Lock nuts should be inspected and tightened so that 50% of the thread is exposed behind the nut. Avoid over-tightening to prevent frame damage.
Winch Assembly of Your Commercial Patio Umbrellas
The winch assembly of a commercial patio umbrella is a critical component. Funbrella® winches are user-serviceable, although you may want to hire a specialized maintenance technician if several umbrellas are installed on your premises.
If you have technical maintenance staff in-house, they can refer to our extensive installation and maintenance documentation to assist with yearly inspections.
Cables should be checked yearly. Replacement should occur as soon as any fraying or wear is identified.
The ratchet pawl, wheel, and torsion spring should all be checked for wear. Replace parts as necessary.
The ratchet pawl should move freely without feeling loose. Flathead Philips screws can be tightened if the pawl is not operating as intended.
The brake lining plate should be inspected and replaced if worn beyond repair. If the brake appears glazed, it can be sanded with fine grit sandpaper to allow for more friction and grip on the surface.
A complete inspection can identify worn parts. Never overlook any wear within the winch assembly. Replacing worn parts can prevent failure.
Cleaning the Canopy of Your Commercial Patio Umbrella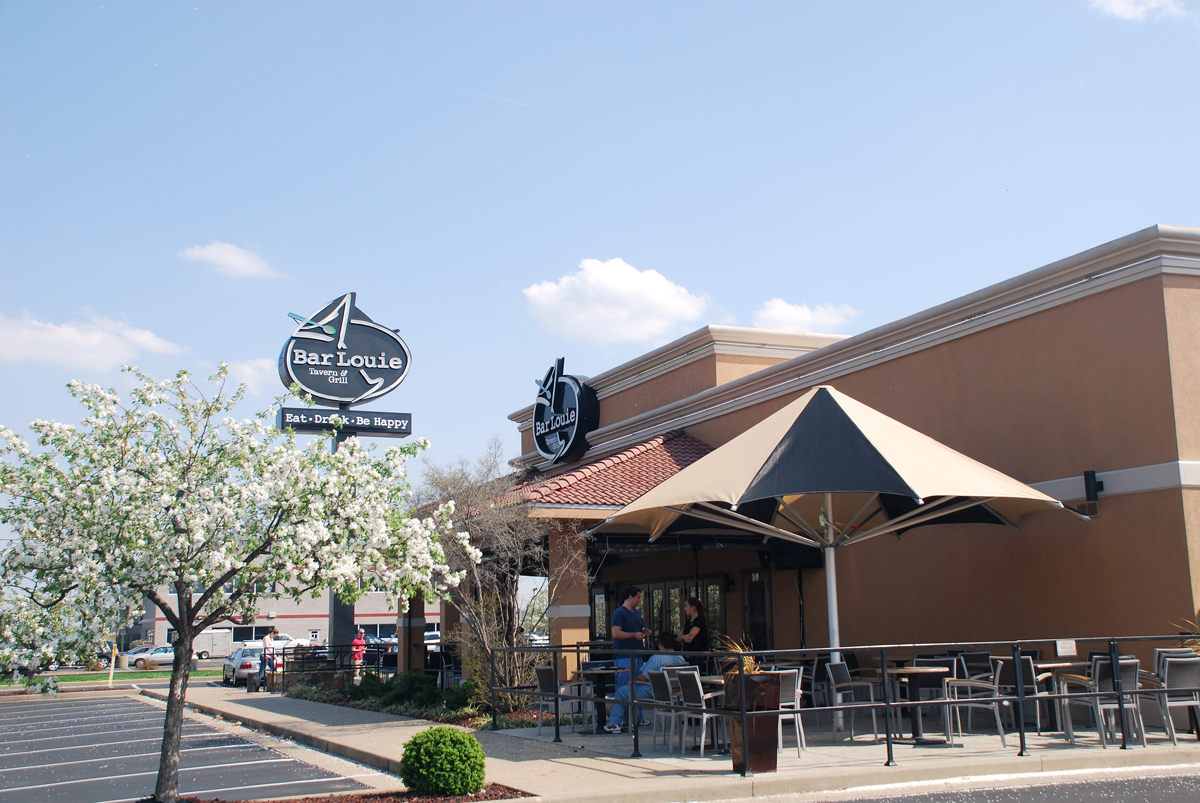 Popular commercial patio umbrellas like the Funbrella® Classic and Funbrella ® Shark are provided with high-quality shade canopies that can last for up to five years longer than smaller commercial grade umbrellas.
Of course, maintenance is still important, and there will be times when you need to clean or even store your umbrella canopy.
The woven acrylic fabrics used on Funbrella® umbrellas are designed to last for years of trouble-free use. If debris, bird droppings, or any kind of residue does build up on your umbrella, you'll need to perform a thorough cleaning to keep your investment looking its best.
No harsh detergents or chemical sprays are needed to remove dirt, grime, and animal matter from your umbrella canopy. Use a mild soap with clean warm water to remove any stubborn stains on the fabric. If you will be storing your commercial patio umbrellas for an extended duration, it's important to ensure that the fabric is fully dry before being kept in a cool and moisture-free area. Storage sheds, garages, etc. are perfect for storing your umbrella. Keep your Funbrella® in a storage bag and it will be ready to go when spring comes around.
Learn More About the Best Commercial Patio Umbrellas for Sale
Anchor Industries leverages decades of experience and engineering excellence to bring you the most versatile solutions. Explore a complete range of commercial umbrellas for waterparks, resorts, hotels, or any business that needs efficient shade options.