Customer satisfaction should be the core of your business growth strategy. If you can impress your customers and leave them satisfied with the services and amenities you provide, then you will have a higher chance of repeat business and organic referrals.
Whether you operate a water park, restaurant, or even a bar or live music venue, commercial shade structures will be essential. You'll provide comfort to your patrons while protecting them from the sun and other elements.
Here are the top ways that investing in a shade system could attract customers and benefit your business.
Weather Protection for Your Valued Customers
The perfect day out can be quickly ruined by a sudden downpour. Even a short rain shower could leave your customers feeling less than satisfied with their experience. You can't control the weather, but you can control how it impacts your business. Shade structures and waterproof canopies can protect your guests no matter what the weather decides to do. For outdoor eating areas, bars, and music venues, this kind of weather protection is essential.
Lower Energy Costs That Allow You to Focus on Other Improvements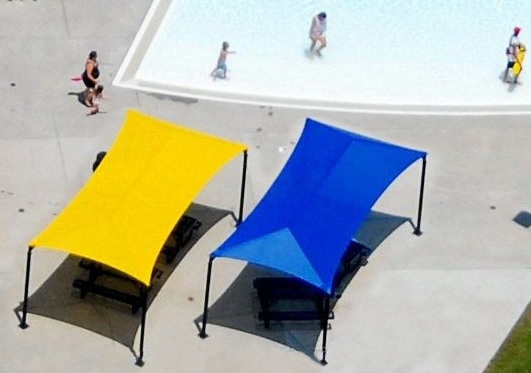 Commercial shade structures could help you to reduce your energy costs, allowing for investment in other areas of your business.
Cost cutting is common in small and medium-sized businesses, but it's not just about increasing profits. Reduced overheads can allow you to spend money on things that will keep your customers coming back. Shade structures give an indirect benefit to customer satisfaction.
Canopies placed near doors and windows will create comfortable outdoor areas while reducing the amount of sunlight that ends up in your interior. Your HVAC costs will be reduced, so your company will run leaner. Use the money to improve the furniture, invest it in staff service training, or put it towards the development of competitive products and services.
Branding That Helps You Capture Your Market Mindshare
Keeping your brand front and center is essential. At the same time, you should try not to overwhelm your customers with branding that would cheapen their experience. Having branding printed on commercial shade canopies will keep your business name visible, without seeming forced or in poor taste.
Investing in the best commercial shade structures from a company like Anchor Inc. will give you access to high definition graphic and logo printing that is UV stable and long-lasting. Image is everything in the business world, so make sure you are getting the best one across to your customers.
Increased Seating Capacity for Restaurants and Bars
Without adequate seating, you'll never be able to grow your business to its full potential. Al fresco dining is a massive trend around America. Customers who visit bars, restaurants, and coffee shops want the option to sit in the open air. At the same time, they want to be shielded from the wind, sun, and rain.
You could vastly increase your outdoor seating capacity by investing in commercial shade structures. This could allow you to maximize the return you get from your available real estate.
Outdoor seating is comfortable, and you could create a real garden bar or restaurant atmosphere that will bring new and repeat business through your doors. If you have unoptimized outdoor space that just isn't getting used, then a shade structure could be the missing element.
Offer Safe Spaces for Families with Young Children
Families want to visit restaurants and other service-based businesses that are child-friendly. The UV radiation is a major hazard, and even short-term exposure to sunlight can lead to long term problems. Kids are particularly vulnerable to sunburn and skin damage that can lead to cancer.
Commercial shade structures filter dangerous UV radiation, providing safe and comfortable outdoor environments. At resorts, water parks, restaurants, and hotels, a shade structure could help you to bring in a larger share of the family market.
Find the Highest Quality Shade Solutions at Anchor Incorporated
From umbrellas and cabanas to customized commercial shade products, Anchor Industries is ready to help your business succeed. Gain all the customer-facing benefits of a shade structure and increase customer satisfaction.
For the best commercial shade options in the nation, talk to the experts at Anchor today.