Decorative gadgets are ornaments that can be added to any house's façade. Decorating your exteriors, including the entrance doors, windows, and patio area, is necessary. Awnings can be added to any of these areas. An awning is normally erected above a window or entrance, but it can also be installed with columns, which is ideal for patio decorating. This overhanging decoration serves to fend off rain and sunlight. But, more importantly, it is a striking design for building entrances. Discover some wonderful residential awning ideas for your house below.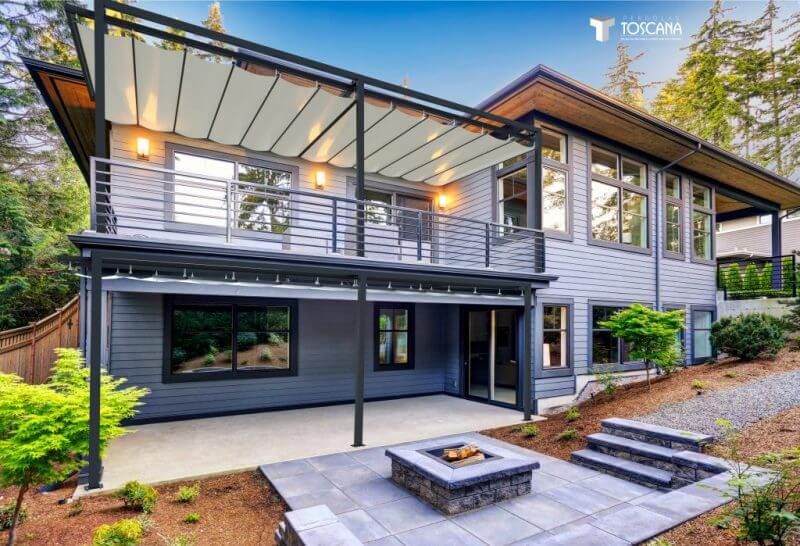 What is An Awning?
An awning, also known as an overhang, is a second covering for a building's outer wall. It's commonly made of polyester, acrylic, or cotton yarn that is woven into a canvas that's stretched taut over planar frames. This can also be used as an outside door and window treatment to create a dramatic impression.
Some Innovative Types of Residential Awnings
Here are six patio awnings that can add to your outdoor living spaces and curb appeal, while providing shelter and shade:
A pop-up awning: This portable canopy pops up in seconds and shrinks into a small roller bag that you can carry with you wherever you go.
Fixed patio awning: A rigid roof-like awning that protects against UV rays, but still permits light to pass through up to 65 percent.
Motorized patio awning: These can be retracted at the touch of a button on a remote control. They're commonly made of acrylic fabric resistant to mildew and mold as well as wind-resistant commercial-grade aluminum or steel frames. Many come pre-assembled, so all you have to do is mount them on a wall, soffit, or roof or hire a professional to do it for you.
Sunshade patio awning: This lightweight, breathable awning contains metal D-rings that can easily be linked to existing or new support beams and is made of a water-permeable, mesh-like fabric.
Pergola patio awning: If you have a pergola over part of your patio, these can provide shade and privacy. Some are fixed to the legs, but many can be manually retracted with the use of carabineers and a wire cable.
Manual roll-out patio awning: These offer a little more coverage without adding a fixed structure to your property. They're usually constructed of flexible fabrics such as cotton, canvas, vinyl, or polyester that can be bundled up and stowed.
Things to Consider Before Buying A Residential Awning
Consider three factors while purchasing for a patio awning: the awning's primary function, your surroundings, and usual weather conditions. Awnings can either be fixed or retractable. Because your home's structural décor doesn't have to be permanent, retractable awnings are a great option. Choose from remote-controlled, manually operated, or motorized awnings.
Buy Dependable Residential Awnings from Anchor Industries
Adding an awning to your patio will make it more enjoyable and functional. Your patio will become the life of the party due to the security and privacy it provides.Here at Anchor Industries, a reliable customer service team, designers and product engineers are constantly working hand-in-hand to ensure upskilling and innovation. Our mission is to be industry leaders in large-scale fabric manufacturing. We specialize in sturdy residential awnings that are built-to-request and can add color to any location. Call now for a quote!