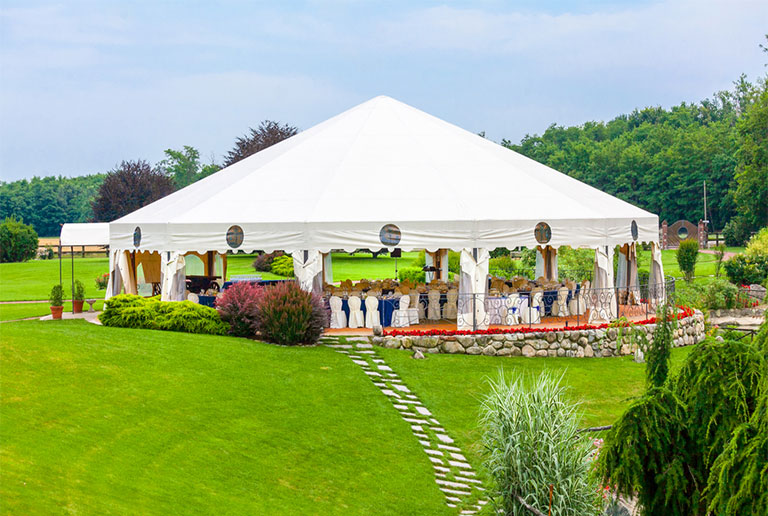 Organizing an outdoor event has specific challenges. These include dealing with unpredictable weather, finding the right location, setting up decorations, and, of course, providing event tents. Event tents are not a new concept. However, organizing an event involving tents can be complex and involves various components. They add elegance to your outdoor event and provide comfort against the weather. How do you choose the right tent for your event? Here's a comprehensive guide that answers common questions about event tents.
What are the Different Varieties of Event Tents Available?
The event tents market offers an impressive range, leaving you spoilt for choices. Your choice depends on your event, budget, and personal preference. The most popular event tents are pole tents, frame tents, stretch or tension tents, and clearspan structures. Each comes with its unique aesthetic and operative advantages.
Pole tents have poles that are placed in the ground, giving them a classic and elegant appearance. This makes them perfect for weddings and festivals. Frame tents are supported by a metal foundation, so they can be used for any event or location. Trendy stretch or tension tents provide flexibility and a unique look. Clearspan structures create a spacious and airy atmosphere, perfect for larger events. They have no internal poles, giving an open and unobstructed view.
Is Buying or Renting an Event Tent the Better Option?
Whether to buy or rent an event tent depends on different factors, just like other aspects of event planning. Renting an event tent can save you money if the event is not frequent or a one-time happening. Event tent rental companies provide a variety of tents to suit your event needs. With their services, you can avoid the hassle of storage and maintenance.
If you frequently host events or run your own event or wedding planning business, buying a tent might be a better choice. Investing in a quality tent can prove economical in the long run, or it can also be rented out when not in use.
How to Select the Perfect Event Tent Size?
The tent size depends on the number of people, the type of event, and any extra space needed for things like dance floors, stages, or dining tables. For example, a sit-down dinner party may need more room per guest than a cocktail gathering. Most tent rental firms provide a sizing guide depending upon the count of guests. It's always a good idea to talk to the rental company about your needs and determine the right tent size.
Can I Assemble the Tent Myself?
If you have some information and caution, you can assemble small, basic tents by yourself. However, larger and more complex tents such as pole tents, tension tents, or clearspan structures usually require professional installation for the tent's safety. Incorrect assembly may cause accidents or damage. Most tent rental companies provide installation services, which saves you the hassle and ensures a safe setup.
How to Deal with Bad Weather Conditions?
Event tents are made to withstand medium weather, like light rain and wind. Having a backup plan is important for severe weather such as heavy rain, strong winds, thunderstorms, or snow. Your tent rental company should give you the manufacturer's guidelines on wind and snow load capacities.
Remember, no tent, irrespective of its design or strength, is entirely weatherproof. It's always safer to evacuate if the weather becomes too severe.
What About Tent Decorations?
Decorating your event tent can transform a simple event into an unforgettable one. The decor in the venue includes ceiling drapes, chandeliers, fairy lights, flowers, and themed decorations. Make sure to always confirm with your tent rental company before attaching decorations. Some items might require special care or may not be permitted to avoid any harm to the tent material.