Shade solutions are essential no matter what business you are in. You can grow your brand when you provide clients and visitors with comfortable and safe outdoor areas. Provide the perfect environment, and you'll see customers coming back again and again.
From water parks to sports grounds, quality shade structures can make a dramatic difference. With Anchor Inc. you can find a range of commercial umbrella for sale that exceeds industry standards and provides years of return on your investment.
Permanent Commercial Umbrella for Sale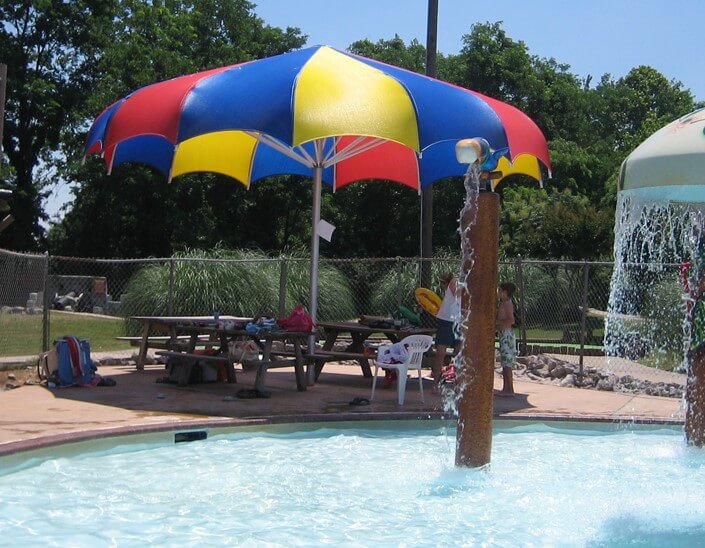 Pavilions and gazebos aren't always the right solution when you need shade. For areas where natural protection is not available, FUNbrella® shade structures can make all the difference.
These are our most popular large commercial umbrella for hotels, resorts, and waterparks. They were initially designed for waterparks and commercial pools, so we had the most demanding conditions in mind. They are durable and resistant to chemicals and moisture. Their UV protection is unparalleled in the industry.
Continued improvements in efficiency can help you to grow your business while reducing costs. Permanent commercial umbrella for sale can eliminate setup and pack-down requirements, giving you a cost-effective solution that is simple and low maintenance. FUNbrella® Classic models are made to suit any outdoor area, with both 12' and 20' versions available to suit your needs.
Our precision engineering ensures resistance to wind, rain, and all weather conditions. Our frames are made from 4" diameter high quality aluminum, with powder steel tubing for bows and braces. Month after month and year after year, FUNbrella® classic can provide sun protection and shade for your guests.
FUNbrella® models are offered with woven acrylic canopies, which provide essential UV protection for park guests. We use the highest quality fabrics to meet recommendations set by the Skin Cancer Foundation.
Change FUNbrella® Tops for Even More Versatility in a Commercial Patio Umbrella
The FUNbrella® system suits both Classic and Shark tops. Our classic canopy is suited for parks and other commercial spaces where a traditional appearance is required. If you're looking for something more modern and striking, then you could opt for a Shark canopy. Rotate the tops from season to season to refresh your park and keep your customers impressed.
The Classic FUNbrella top is available in Woven Acrylic and the Shark FUNbrella top is available in both Woven Acrylic and UV Mesh fabrics. These provide superior protection from damaging sunlight and are color-stable in even the hottest conditions.
On average, our canopy tops last up to five years longer than the competition. You'll be able to make a real investment that continues to pay off for your business.
Get Branding on Every Commercial Umbrella for Sale
Why not add custom branding to your commercial umbrellas? Permanent umbrellas can advertise your business while providing essential shade during the hottest months of the year. Custom colors and pattern designs can give a striking appearance to complement your sports park, hotel, waterpark, or any place of business. With the ability to add custom graphics, you can ensure repeat business and continued recognition for your company.
Have You Considered All of the Benefits That a Commercial Patio Umbrella Can Bring?
If you aren't providing enough shade areas, you could be losing business to the competition. High-quality commercial umbrella for waterparks and other commercial spaces can provide ongoing benefits.
Comfortable and cool seating and entertainment areas will keep your customers happy and safe from sunburn and heatstroke.
Customers will be more likely to return to a business that provides comfortable shaded areas.
A commercial umbrella for sale can be used as a branding tool, helping you to gain the mindshare of your target market.
Umbrellas are more flexible than other shade options and can be relocated as your park expands.
Interchangeable tops mean you can quickly change the look and feel of your park.
High-quality aluminum and steel construction will protect against damage from wind gusts.
Acrylic fabrics and UV mesh canopies will resist damage from intense sunlight. Your investment in commercial patio umbrella will be protected.
Beautify your outdoor areas while providing convenience to your patrons. Anchor Inc. is one of the longest established and most trusted commercial umbrella manufacturers in North America.
Contact us today and make a long-term investment in your customers and the future of your business.