Are you planning an outdoor business function or team-building event? Worried about harmful UV sunrays for your guests and attendees? If so, Anchor Industries features high-quality commercial shade structures for all your gatherings. With a fine line of canopies, cabanas, umbrellas and their signature PERFECTSHADE™ series, you are guaranteed to stay cool and comfortable even in the hottest weather. As a seasoned, reputable and highly-rated company, Anchor Inc. has – and continues to be the perfect solution for all types of commercial or family outdoor socials.
Made in the Shade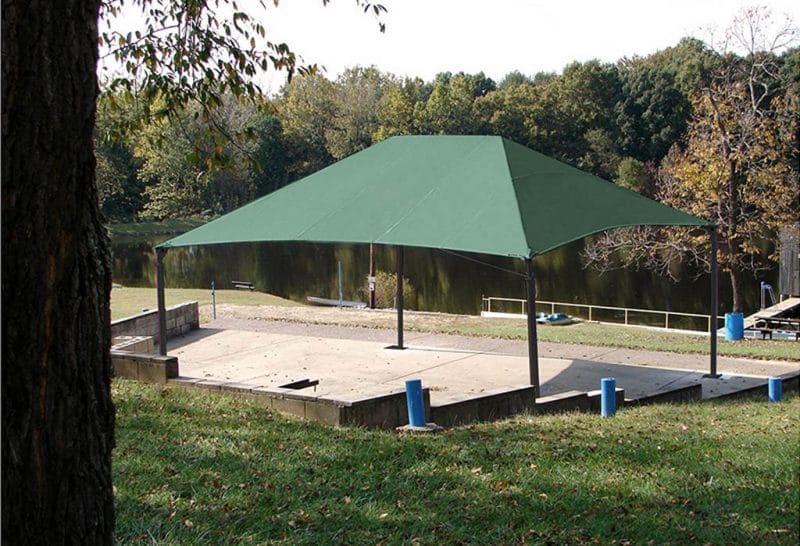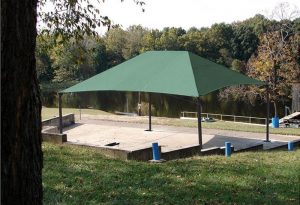 PERFECTSHADE™ continues to receive stellar industry ratings and customer reviews. This sturdy, durable canopy is ideal for maximum UV protection with optimal cooling for your guests and invitees. Designed with a sleek look and wider coverage, this popular unit is perfect for commercial outdoor events, sports parks, swimming pools, amusement parks and even ball fields. In fact, its top is made from Anchor UV Shadecloth for easy installation on concreted pads.
The PERFECTSHADE™ also features a heavy base-plate and anchoring bolts to withstand high, gusty winds and inclement weather. When it comes to commercial shade canopies, this highly-rated product will truly enhance all your outdoor birthday parties, business events, socials and neighborhood gatherings. Here are some essentials of investing in PERFECTSHADE™:
User-friendly, functional and designed to ensure comfort for event guests, loved ones and co-workers.
The perfect outdoor canopy for ball fields, sports parks, childcare facilities, public parks and outdoor gathering venues – green spaces.
Guaranteed UV sunray protection for guests so they don't get sunburned outdoors.
Highly wind-resistant, and designed for installs on concrete applications and other hard foundations.
We are also proud to showcase the Fiesta Patio Canopy. This DIY unit can easily be installed over your patio for optimal protection from sun and rain. We feature 10 ft. – 25. Ft. widths for good coverage, along with slopes to facilitate the unique style of your patios.
Protect your Guests and Enhance your Event
Outdoor business events are great for meeting fellow co-workers and company executives. Similarly, they promote team unity and are perfect for product launches, new directives or employee appreciation for all their hard work. Whether for breakfast, brunch, or lunch, you want to ensure your guests are safe and comfortable at every turn. The last thing you need is for an attendee to leave due to blaring sunrays and fear of UV sunburns.
With this in mind, Anchor Industries tests all their manufactured canopies, cabanas, and umbrellas to the highest standards. In fact, each product has passed stringent requirements and criteria for commercial and personal use. Here are some of the features of PERFECTSHADE™:
Sizes up to 20' x 20' and engineered to 2016 International Building Code.
Available in six rectangular and square configurations – designs for your choice.
20' x 30' meets 2012 INC with ASCE 7-10 specifications to withstand gusty winds up to 90 mph.
Sturdy, durable power-coated steel frame.
The low-profile hip roof design is aesthetically-pleasing for any occasion or outdoor setting.
The Anchor UV Shadecloth fabric has a 10-year fabric warranty and blocks out up to 95% of harmful UV rays.
The top is available in a myriad of stylish and trendy colors: Aquatic Blue, Brunswick Green, Cherry Red, Desert Sand Yellow, Natural and Turquoise.
The EZ-Tension cable-in-corner construction is ideal for quick, easy installations. Features 8' eave height.
FUNbrellas® for Outdoor Gatherings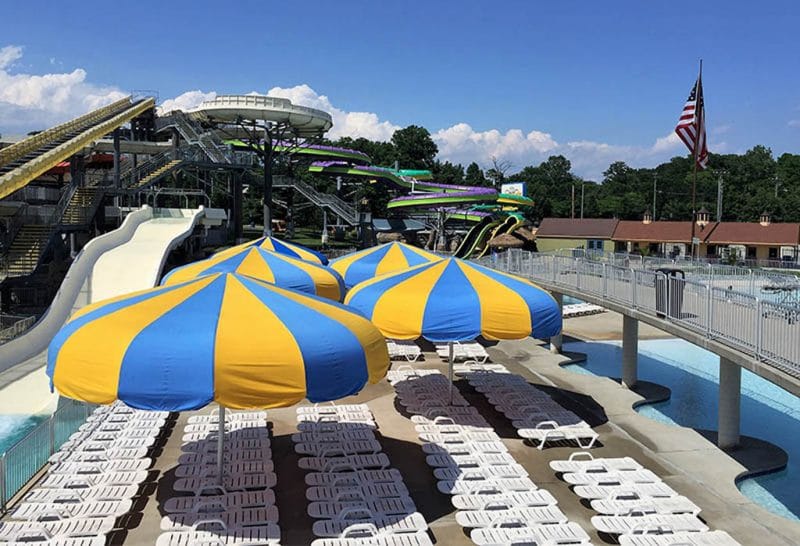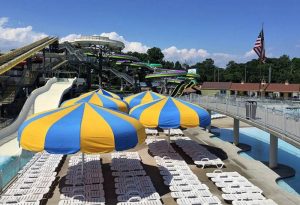 Add a unique touch to your outdoor events with Anchor's fine line of FUNbrellas®. These stylish commercial shade umbrellas offer optimal protection from the sun. Similarly, they are versatile and can be set up near the pool or literally at or on any outdoor setting. These giant, permanent umbrellas are made with tough aluminum and power-coated steel frames. You also have a choice of several rainbow colors and designs, along with acrylic or breathable mesh tops.
From Classic and Shark to Palm, FUNbrellas® are designed for durability and longevity with ease of use. In fact, the single-center pole minimizes obstructive views, and your guests are assured true comfort and shade under 12' – 20' diameter umbrella canopies.
For more information on commercial shades, simply contact us today or visit our website.