In the competitive world of business, branding is everything. Without the right brand marketing, your company becomes just another name in a crowded market. No matter how good you are at what you do, it will all be for nothing if customers don't recognize you.
Some businesses spend thousands of dollars on marketing campaigns, only to overlook the basics. Something as simple as an awning canopy can strengthen your brand and bring more customers through your door.
Benefits of Anchor Inc. Awning Canopy
Brand promotion is critical anywhere that you do business. If you've invested in a custom logo or typeface, then you need to make the most of it. Business signs can benefit your business. If you are installing a custom awning canopy, you'll have even more opportunity to put your brand forward.
Branding can benefit your business daily.
Physical branding on custom awnings helps your market recognition. Consumers will associate your building with your brand, products and services.

As your brand becomes recognized, it will stimulate demand. Simply having your logo or name visible on a custom awning could bring business through your door.

Your branding should influence the design of your storefront, showroom, restaurant or retail store. A logo printed on awnings can be the catalyst that sets your creativity flowing.
We can custom print lettering and detailed graphics in high definition on any awnings and canopies. Contact us today to get started.
Awning Canopy Energy Benefits
Branding can help businesses secure your future growth. Energy savings could keep your company profitable in the meantime. Custom awning solutions from Anchor Inc. could reduce your energy costs.
The sunlight that comes through a building windows can be responsible for up to 20% of your HVAC costs throughout each year. Installing awnings on each southern and eastern facing door or window could significantly reduce heat gain. Reducing the amount of UV light that enters your commercial building could also protect furniture and flooring from fading and discoloration.
Commercial awnings are cost-effective, and with our quality Sunbrella® fabrics and precision engineering, we build them to last for years. Even in the most demanding environments, Anchor Inc. awning canopy products will outperform your expectations.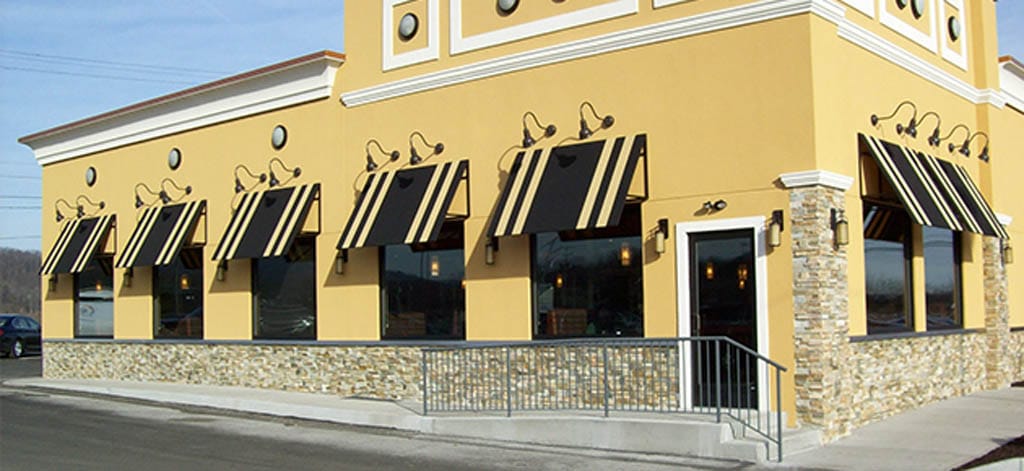 Custom Graphic Designs with Sunbrella® Fabrics
Basic awnings can be color matched to your business or storefront, giving you the branding recognition that you need. For even more impact, particularly at a main point of entry at your business, you could choose customized awning graphics.
At Anchor Inc., we use a combination of industry-leading 3M graphics film and Sunbrella® awning canopy textiles. Our materials offer several significant benefits to make for the perfect investment.
Sunbrella® shade textiles are the perfect complement to our precision engineered frames. They are UV resistant to prevent fading. Stable color pigments will ensure your business always looks its best.

Awning canopies are mold and mildew resistant. Dirt and debris can easily be brushed off for routine cleaning. A mild bleach solution can be used for tough stains. Fibers used in our awning canopies are pigmented all the way through. Fading and discoloration will never be a worry.

Our awnings provide complete sun protection, so they're ideal for covered outdoor seating areas, restaurants, and waiting areas.

Our fabrics are breathable and allow for ample airflow. No more hot zones underneath your business awnings.
Ready to Upgrade Your Business? Talk to an Anchor Industries Rep Today
Whether you need a large awning canopy for a business entryway or smaller custom window canopies, we can design and produce the perfect product. Take control of your business branding and compete in your market.
With additional benefits like energy savings and durability, awning shades can help grow your business. Sometimes, it's the seemingly smaller features that can make the biggest difference to your day-to-day operation.
Get commercial awnings that increase your visual presence while providing significant environmental benefits. Contact us today by phone or request information online to learn about our outdoor space options. See how simple it is to order custom canopies and learn how an awning can improve your business.