Good quality tents and awnings are available at a very affordable price from Anchor Inc. In this article, we look at some of the tents and awnings available and how to make selections of each.
Tents are freestanding structures that are typically meant to provide temporary external housing. At Anchor Industries, we have commercial tents that are used to host large events all the way to small concession tents that can serve as stalls during trade fairs.
Because tents undergo multiple cycles of installing and uninstalling it is imperative that the fabric is strong and durable enough to handle this. The fabric should withstand multiple transportations and installation sessions. Poor quality fabric will be torn in no time.
There are different tent designs each suited for a different set of circumstances and situations.
Pole Tents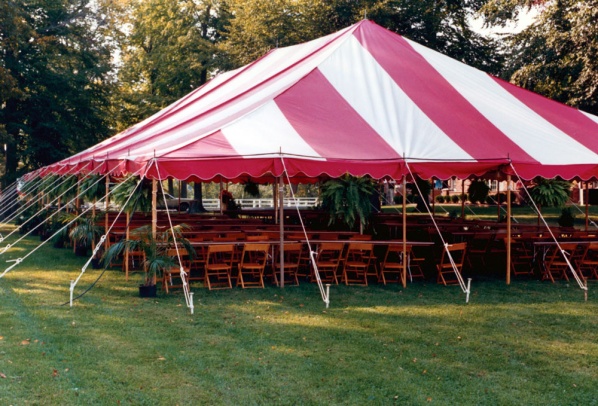 In this type of tent, the structure of the tent is a series of interconnected poles. The poles are secured in place by staking them on the grounds in which the pole is erected.
Pole tents require a central pole to secure the center of the tent. It is therefore not possible to provide an unobstructed view for all guests in a pole tent.
Pole tents cannot be erected on hard surfaces like paved areas and concrete floors because the tent needs to be secured by staking into the ground. A pole tent that is erected on a hard surface can very easily topple over and collapse on top of whoever is inside the tent.
Advantages of pole tents
They are easy to transport and store
They are affordable to buy
They are available in a wide range of sizes
They're easy to set up
Frame Tents
In this type of tent, the material cover is supported by a series of frames. These tents are free standing and the poles don't have to be staked.
They also don't need a central pole and are therefore good for events that have a focal point because all guests will have a clear view of the focal point of the event.
Advantages of frame tents
They can be set up on hard surfaces
They can be installed for medium to long term usage
They provide an unobstructed view from all corners of the tent
Awning
An awning is an overhanging material attached to the exterior of a wall or building. Unlike a tent, it is not a structure that stands by itself. Anchor Inc is your one-stop shop for high-quality, affordable, residential and commercial awnings.
Residential and Commercial Awnings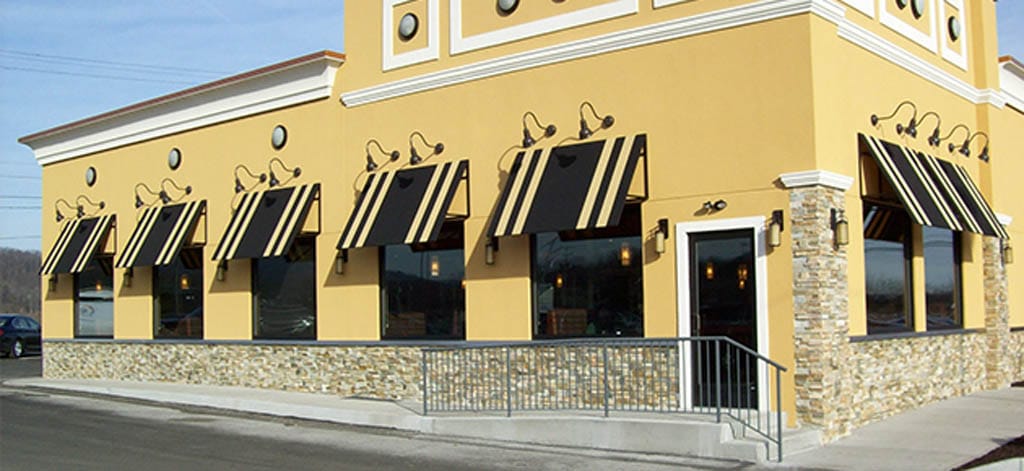 Awnings play the dual role as an eye-catching accessory for your home's patio, balcony, or porch. The second role they play is more functional. They provide an overhang from the wall of the home that extends shelter beyond the roof of the home.
Commercial awnings provide all the benefits of residential ones plus additional likes branding and larger size.
Awnings block the direct glare of the sun when you're sitting at your patio or porch. With a good awning from anchor industries, you don't have to use your hands as a visor against the sun's rays. You get the warmth and the view minus the glare.
Regulating the sun's rays also reduces damage to porch furniture. Direct heating is notorious for damaging wood-based furniture. This is because the heating and cooling cycles warp and deform the wood.
Direct sunlight also damages the paintwork of the furniture. For metal-based furniture, the paint gradually peels off.
Factors to consider when shopping for an awning.
Dimensions
When shopping for an awning, get your dimensions right to avoid disappointment. Optionally, contact us at Anchor Industries and we will be glad to assist.
The material
The two most common options, the outdoor fabric which comes in a wide range of colors and aluminum blinds which is limited when it comes to color options. Anchor only works with fabric awnings!
Direction of patio relative to the angle of the awning
For patios facing east or west, the glare of the sun is far more intense than for those facing south or north. For the east or west facing, the angle of the awning drops only slightly from the horizontal. The north or south facing can drop very low without letting in too much glare.
Side panel
Side panels serve two purposes, they provide additional cover against rain and also for north or south facing patios the glare of the sun will come from the side of the awning. So consider that.