Tents are the ideal choice when planning an outdoor event because they provide a covered space with an open-air ambiance. That being said, they don't merely protect your beloved guests against the rain and unfavorable weather conditions. Instead, they are the ideal beginning point for wedding décor.
If you're ready to start planning but aren't sure about the style of tent that will suit your event best, we recommend our quality frame tents. Here's what you should know about this kind of tent.
What are Frame Tents?
Frame tents for sale comprise a tensioned structure on top of a light aluminum-made frame. We recommend them for intimate ceremonies, wedding receptions, and food service. We can join them together to form various configurations.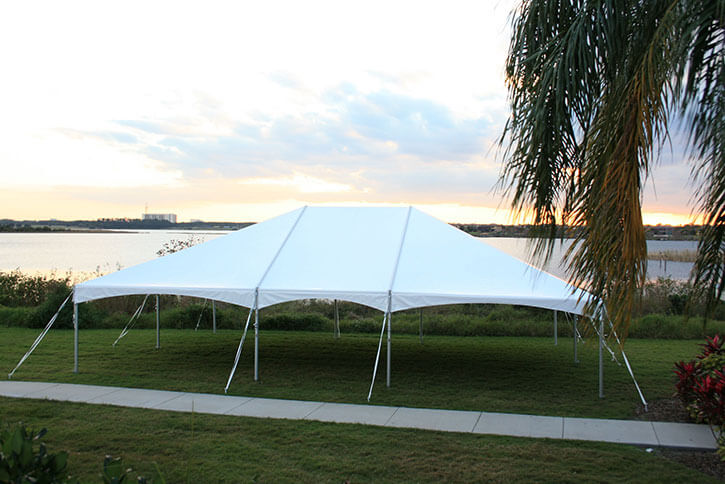 When it comes to versatile tents, we can build them around obstacles and anchor them partially or completely on rooftops, concrete surfaces, over gardens, pools, and more. Their lightweight and freestanding designs permit us to assemble these tents remotely.
They're available in various sizes and are suitable for smaller applications and events for covering patios and decks at restaurant sites or backyard parties. While these tents lack internal poles, they're very sturdy and can remain in sites as necessary.
These kinds are accessible in widths of up to 50 feet to offer adequate coverage of landscaping or smaller structures at a country club, private home, or other venues. If you use our frame tent for weddings, you'll discover the design guarantees maximum space use while forming an open and inviting outdoor space beneath the tent.
The Functions of a Frame Tent
This type of tent is more adjustable to the surroundings, enabling more custom installations compared to the conventional pole tents. This tent comprises a frame structure that permits it to stand freely without the support of guy ropes and center poles.
Its structure is what permits it to withstand snow loads and strong winds. Although they don't depend on the guy ropes' tension, we will secure them with blocks, stakes etc. We can install the weights or stakes near the tent, allowing more walking room around your tent and allowing the installation to take place where there's restricted space.
This tent often functions on construction sites, parking lots, driveways, or on grass when clients would rather not stake through the ground. In addition, these tents work for corporate events. Numerous galas or corporate events have screens, a stage, or some kind of presentations that guests view.
The fact that these tents lack center poles implies an excellent view from each seat and doesn't restrict the interior setup (staging placement, seating etc). There are numerous ways of accessorizing this tent. The most common way is the gathered or smooth tent liner.
You secure the silk-like fabric to the tent's frame, concealing the frame and producing a soft feel and look. You can also add leg drapes to cover the side poles.
Tips for Planning Outdoor Wedding/Receptions
Guest Accommodation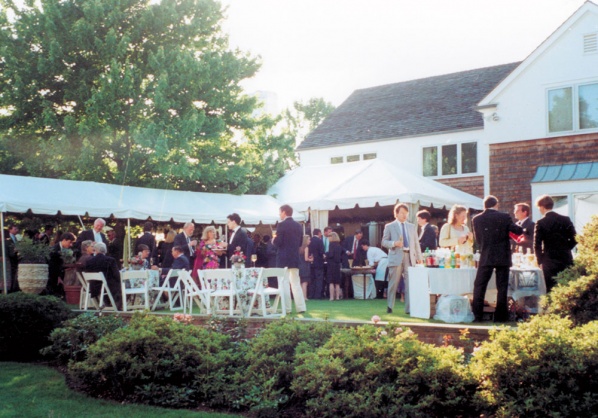 Beware that the sun could take its toll on your guests. There is nothing worse than the sun beating down on your guests throughout the wedding ceremony. Remember, the wedding photographer will snap pictures as well, so the seating shouldn't be in direct sun.
In case you don't have shade structures such as umbrellas or trees, consider giving your guests fans or parasails to keep them photo-ready and cool. On a similar note, older guests typically have a lower heat tolerance, so they'll certainly require a cool sitting place. In this case, organize a shaded area with comfortable and cushioned seating where they can relax and cool off when necessary.
Weather Backup
Regardless of the time of year, you will celebrate your wedding, there is always the chance that nature might not cooperate. If you're planning a wedding outdoors, have a backup plan in case of snow or rain. Even those who celebrate at a site without a backup indoor choice, an excellent secondary option to stay outside might be a high-quality tent.
Arrangements and Décor
One aspect people overlook when it comes to outdoor weddings are the decorations. Bear in mind that the centerpieces and another floral décor should not be in harsh sunlight or cold weather for a long period before the wedding starts.
You will also want to ensure the name cards are secure if you'll have a seated dinner outdoors; wind could come any time, blowing them off the tables.
If you're seeking a reliable frame tent supplier for your wedding, Anchor Inc. will meet your unique needs. You can relax knowing that your event will be successful.