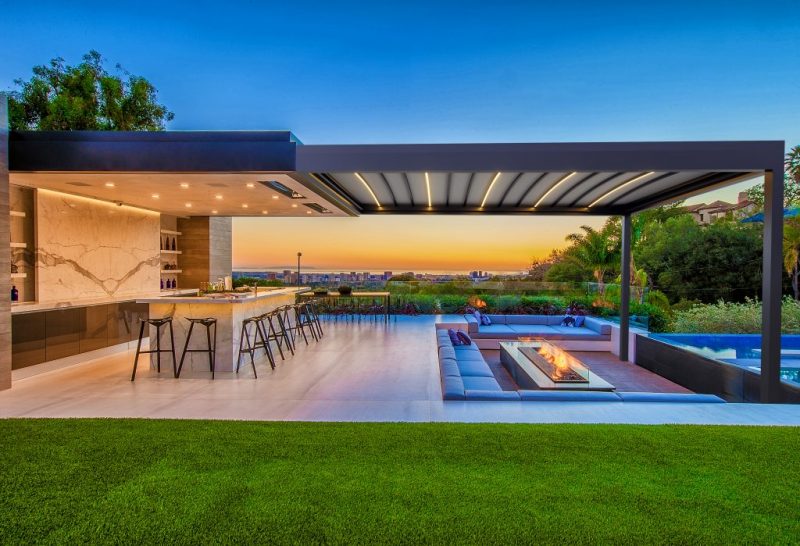 A New Way to Shade
Anchor Industries is proud to offer a unique Retractable Pergola. These retractable structures can be customized to meet our clients unique needs and locations. These ground-breaking pergolas will take your outdoor area to the next level. Transform your outdoor space into an indoor area anytime you like with the stylish Retractable Pergola. Look no further than Anchor Industries for your retractable pergola needs.
Toscana by Anchor Retractable Pergolas come with a lighting system to help illuminate the indoor space. The one-of-a-kind LED lighting system is entirely uniform in terms of light transmission and energy usage. This device comes in a number of colors and configurations. Control the light options with a remote and/or phone app.
Are you interested in becoming a dealer for Toscana by Anchor Retractable Pergolas? We are eager to partner with you and help bring this unique retractable pergola outdoor product to your market
Features and Benefits
Retractable roof system with either louvers or fabric
LED lighting system
Color-changing light options
Uniform light transmission and energy consumption
Dimmable light option on Pergolam Design
Transforms an outdoor space into an indoor area
Modern and stylish engineered designs
Made with high quality, durable materials
Engineered to perfection
Customizable sizes to fit your space
Option to outfit with additional accessories such as retractable screens and fans
If you have any questions about ordering our Retractable Pergola, feel free to contact us today.
GALLERY