Depending on how long you've been with a corporation, you may have already had your fill of corporate events. Many are dull, tedious, and last far, far too long. You likely snuck out early at the very first opportunity. Any excuse would do! Part of the reason corporate events tend to be so tiresome is the stuffy environment in which they are held. However, by using one of the many frame tent styles for corporate events, you can put a whole new spin on what used to be the party to avoid.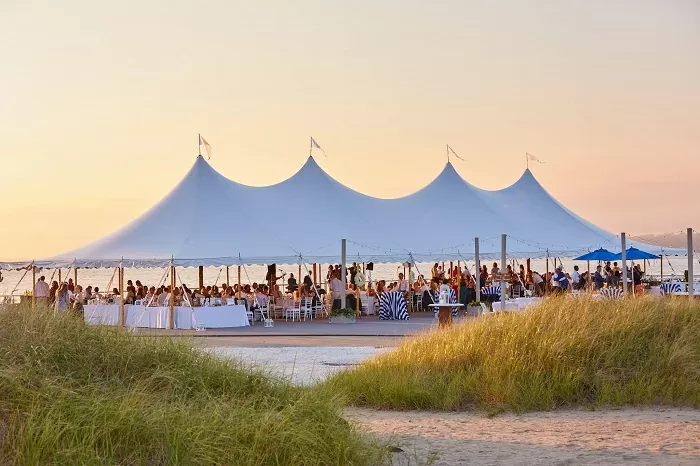 The last time you were driving down the highway and spotted a huge tent in a lot along the road, what was your first thought? You may even have been so curious that you pulled in to see what the fuss was all about. You couldn't help but think, "This must be something really amazing." It may have been a carnival, a wedding, a huge reunion – or even a corporate event. That could, in fact, be your next corporate event.
Let's look at five frame tent styles that could make or break your next corporate event's chances at success.
High-Peak Frame Tents
Paired with a reinforced frame for tent stability, the Century Frame Tent is a mixture of graceful curves and peaks. Installation is a breeze as this selection features an easy sliding side wall system, which also helps keep tent walls appealing and clean. You're sure to find a frame size that is suitable for your event with seven to choose from.
Track Frame Tents
The Navi-Trac Tent helps streamline not just the tear down process, but installation as well. You can install modular roofing and wall panels using a system which features slide-through channeled beams that are precision engineered. Compared to conventional frame tents, this clear top tent is faster to set up and requires less manpower. Various interior sizes can be created to suit your needs – whether your event is small, large, or in between.
The Navi-Trac Lite offers either a 30-foot or 20-foot structure. Ends are available in hip, hex, or gable configurations. Both high quality and great aesthetics are offered by this version, which is a favorite among event planners.
F3 Frame Tents never compromise on structural strength yet are easily installed. There is a high strength to weight ratio with a large symmetrical profile. No tools or pins are needed to put together the aluminum connections. As a means to simplify logistics woes, assembly parts are interchangeable.
Expandable/Gable Frame Tents
Unrivaled versatility is offered by the Fiesta Expandable Tent. No matter your demands, it can be customized to meet them. In even some of the largest structures, the need for center poles is eliminated by expanding sections. It's perfect for large trade events, fashion shows, wedding receptions, dance floors, and more.
Standard Frame Tents
For outdoor events, the Fiesta Pavilion provides elegant shelter. You can choose from three different pavilion widths. To generously accommodate all your guests, one will be the perfect size. Even if there's a heavy downpour, it's been designed to allow water to run off.
For superior but cost-effective performance, the Fiesta Frame Tent is the go-to shelter for weddings, parties, corporate events, and more. The material it is composed of is easy to maintain and clean, while also offering flame resistance and mildew resistance.
Entryway/Gable Frame Tents
Though the Fiesta Marquis Tent is designed mainly for protecting stairways, walkways, exits, and entrances from nasty weather conditions, people have used it for various purposes. The material from which this tent is constructed resists leaks, fire, and mildew. When it comes to safety, the tent offers undeniable peace of mind. In most situations, this tent can adapt featuring both 90° and 45° turns.
Spruce Up Your Corporate Event with a Tent
As you can see, Anchor Industries Inc. has a tent for every occasion. We don't stop there, however, we also carry enclosures, awnings, and more. No matter your event – corporate, family, or private party – we've got you covered… Literally.
If you'd like to find out more about our products or acquire any of them, contact one of our helpful staff members today. Our phone number is 812-867-2421.