Momentous occasions call for celebration. They can be of a personal nature, involving friends and family; or of a more all-inclusive nature such as community events, corporate events, etc. Any gathering worth having, however, is worth a bit of planning. The next time you are tasked with planning a party, why not take it outdoors? People rent tents for parties of all kinds and sizes. Your next event could be kicked up a notch or two – or more – with the right tent.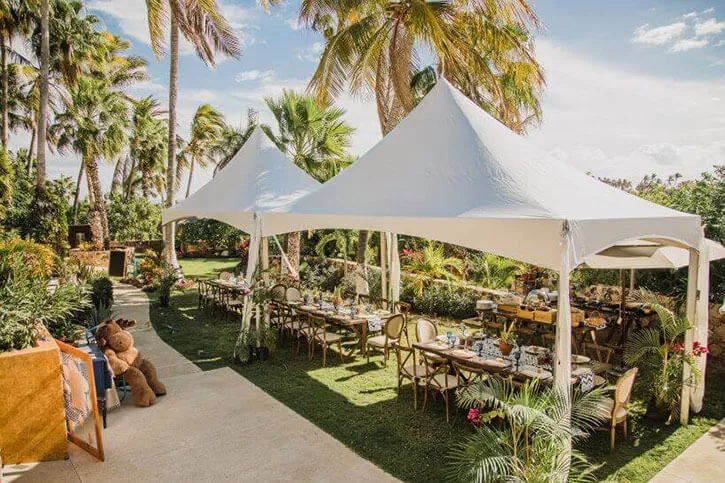 Check out the following four choices of tents that could change a good party into a truly great one.
Frame Tents
Planning a large gathering? Frame tents are a favorite of event planners due, in part, to the fact they are capable of covering a large expanse. Best of all, there is no center pole. Most can be customized to your liking and offer incredible sturdiness. If you think you might run into bad weather, you can always slap on some side walls. Whether you'll have a dessert station, sushi bar, dance floor, or what have you, the spaciousness provided will be more than enough. Leave it up for days at a time, if you choose.
Canopy Tents
Why do some people go with canopy tents? Not only are they easily installed, but they lend a definite statement to any event. Because they go up in a snap, they're frequently referred to as "pop-up tents". Because they accommodate a lot of people, fun and fabulousness are close at hand when you see one of these tents. Hang up some lights, add some balloons, decorate it as you see fit. For some intimacy, enclose your tent with sidewalls.
Canopy tents can also offer an air of sophistication. Even if you have to protect yourself from the weather, you'll still be able to enjoy the view courtesy of the special fabrics available for canopy tents. Consider the needs of your guests, your party, the weather, your budget, and more, to see if a canopy tent is a perfect fit for your next get-together.
Pole Tents
Pole tents and parties go together like peanut butter and jelly. According to the needs of your party and guests, they can be customized appropriately while remaining classic beauties. A timeless elegance is offered by the dramatic sweeping peaks of these structures. Side walls are available for these tents, as with the previously mentioned. Don't let the poles dissuade you. To define different spaces, you can take advantage of the poles rather than be put off by them. One area, for example, may be devoted to dance while another is devoted to food. Accommodate a large number of guests or a smaller get-together. Best of all, these are easy to set up.
Sailcloth Tents
If you need to create an air of class and sophistication, this is another good choice. Sailcloth tents have housed some of the most amazing events ever put together. Be protected from the elements courtesy of the special fabrics used for this selection. At the same time, however, you will be able to enjoy the view. Illuminate this distinctive fabric at night for an extra special touch.
Where to Find Shade For Your Next Outdoor Party
Anchor Industries Inc. can provide shade structures for your next party. We offer a vast array of available products and brands, years of experience, and have several hundred skilled employees as part of our team.
Interested? Find your sales rep on our interactive map to contact us about our service, products, and more.
If you'd like to find out more about our products or acquire any of them, call one of our helpful staff members today. Our phone number is 812-867-2421.