For an event that will impress, nothing comes close to a clear top tent. Pick the ideal location and a clear top temporary structure can become the perfect venue. With abundant natural light, your tent interior will feel larger, more welcoming, and much more sophisticated.
In the past, frame tents were labor-intensive to install and lacking in user-friendly features. At Anchor Industries, we've solved the problem with our highly versatile Navi-Trac® (Navi-Track) system. This is hands down the easiest way to incorporate a sturdy clear top frame tent into your next booking.
What is the Navi-Trac® (Navi-Track) System for Clear Top Tents?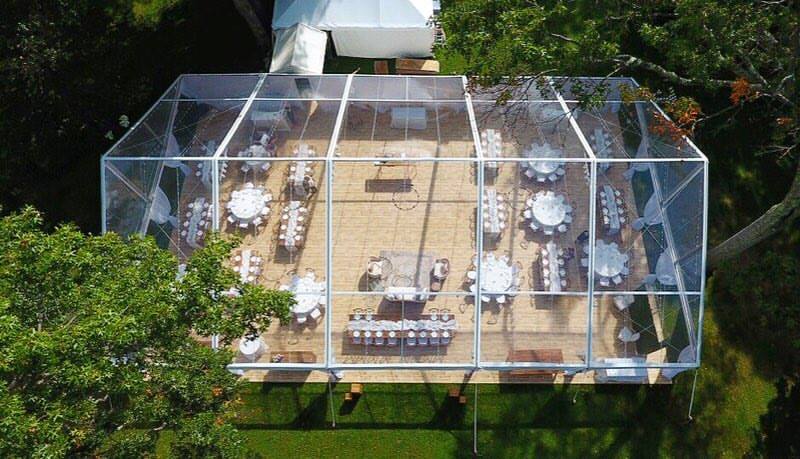 We designed the Navi-Trac® (Navi-Track) system to streamline the installation and teardown process. Using this system, you can install modular wall and roofing panels that slide through precision-engineered channeled beams. The result is a smooth aesthetic that is weathertight and compliant with ASCE 7-02 temporary building codes. Installing a Navi-Trac® (Navi-Track) clear top tent is faster than a conventional frame tent and requires less manpower.
Customization options are extensive. Our standard widths include 30', 40,' and 50' sections. Mid panels are available in 10', 15', and 20' sizes. The modular nature of the system allows you to create interiors of all sizes. You can connect frame tents together with marquee walkways or add pavilions according to your needs.
For events large and small, you'll enjoy the modularity, outstanding construction and material quality, and unrivaled aesthetics. In addition, by choosing clear top tent panels, you can turn any event into something truly special.
The Benefits of Clear Canopy Frame Tents for High-End Events
Your clients may have considered hosting an open-air event, but practicality will always be sacrificed when there's no temporary structure. No matter how much planning goes into an event, there's always the risk of something going wrong.
Weather is the most important consideration to make, and the biggest risk. Even with a forecast for clear skies, the odd shower or even a longer downpour could quickly turn a meticulously planned event into a complete disaster. A clear top tent will allow for the feel of an open-air environment while also providing all the benefits of a fully secured and versatile structure.
The advantages you get from frame tents should not be overlooked:
Frame tents can be modified with extensive mounting solutions for decorations.
You can mount speakers, lighting, fans, and even cameras to frame mounting systems.
Frame tents can be installed on any leveled surface, whether that's an open field, a paved area, or even concrete. There's no need for staking which reduces the overall footprint of each tent used.
Frame tents using the Navi-Trac® (Navi-Track) system are fully tensioned and resistant to both wind and water.
Modern frame tents are easier and faster to setup. This keeps costs down and increases your return on investment.
Window options allow you to select the perfect aesthetic for the event. Clear, mesh, cathedral windows, or even French windows could elevate your next event.
The Navi-Trac® (Navi-Track) frame system is compatible with clear roof panels that open the environment, bringing in more light and creating a beautiful starry backdrop for evening events.
You can order modular sections to make a tent as large or as small as it needs to be on the day. This kind of versatility means you'll never have to turn a customer down.
Frame tents are suitable for high-end flooring installations that would be difficult to achieve in a standard pole tent.
Combining a frame tent design with a clear top will give you the most impressive venue for any event.
Explore Your Options with America's Most Trusted Tent Manufacturer
Anchor Industries sets the bar for innovative clear top tent solutions, including our Navi-Trac® (Navi-Track) system and other industry leading designs. With more than a century of history behind our company, we know how to create the structures that are used for standout events like weddings, concerts, trade shows, and more.
The Navi-Trac® (Navi-Track) system is just one of your options when considering clear top tents. Explore the complete range of Anchor products and look forward to the highest quality commercial solutions that are designed to last.