Marquee tents are revered for their versatility, attractive aesthetics and practicality. What you might not know about marquees is that they can be used as highly effective promotional tools. Renting a marquee tent from a local tent rental/event company for trade shows, special events on company premises or sponsored local events is a great way for your business to get noticed.
Gaining an edge on your competition is essential in any industry. Branding opportunities should not be ignored. Anchor Industries manufactures the highest-quality tents in the United States and works with local tent and event companies across the nation to provide rental tents – including custom tents for purchase – for any event or occasion.
Here are five of the best benefits that come from renting a custom-branded marquee tent from your local tent rental company.
1) Take Your Business Anywhere
In many industries, showrooms are responsible for driving business and engagement. The problem with the traditional showroom is that it's rigid and inflexible. If you are looking for a way to take your brand on the road and engage with potential customers almost anywhere, renting or buying a marquee tent from a local event company could be perfect.
Set up a pop up tent at a trade show, a community fair or market or anywhere that your customer base is. Space will be uniquely yours, and you can use custom branding to ensure that you keep your business in the minds of your consumers.
2) Increase Engagement with a Standout Display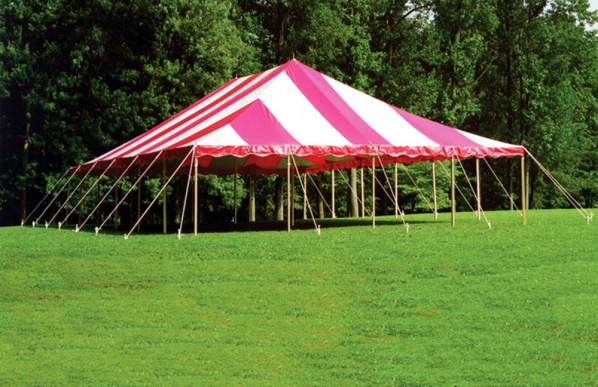 Trade events are great for networking and engaging with potential customers. The problem is that it's often difficult to get noticed among a sea of other businesses. You need something to help your company stand out.
Event tents can be made with custom-colored walls and canopies, and branding can even be printed in full-color text with graphics. A high-quality tent could pull in more visitors, and that would give you more opportunity to promote your products and your brand.
If you regularly attend any kind of trade event, your business needs a marquee event tent.
3) Tents are Versatile and easy to Use
Some of the largest companies opt for extravagant traveling roadshows featuring modified trucks and campers. For most businesses, this would be cost prohibitive. Renting a tent is a versatile and economical solution that will still give many of the many benefits of a motorized showroom.
Modern tents can be safely and quickly assembled without extensive tool requirements. A basic marquee could be erected by just a few of your talented team members, which could reduce your costs in the long term.
4) Marquee Tents are Great for Sponsorship
Community engagement is an effective way to grow a brand. If your business is involved in any kind of sponsorship, a marquee would be a great choice – whether you need to rent one for a single event or you want to make an investment in buying a custom-branded tent that can serve your business for years to come. Sports events, community functions, local farmer's markets… the list could go on. If you are active in your community using a tent could provide a shaded area at any event with your branding clearly visible.
Why not maximize your marketing with creative brand exposure at a sponsored event?
5) The
y're Cost Effective

Renting or buying a commercial or event tent from your local event/tent company can reduce your costs and help to keep your business lean and agile. With a marquee tent, you'll have the flexibility to set up anywhere, whether you're heading out on the road or hosting an event on your own property.
Versatile marquee tents offer features like interchangeable walls and canopies, mounting solutions for lighting and decorations and connecting structures to build a larger complex of tents for trade shows and other projects.
Find a Marquee Tent Today
You should take every possible opportunity to increase your brand exposure. Marquee tents can do exactly this, while also providing many benefits in a scenario where you need a temporary business space away from your head office or showroom.
Anchor Industries is the best marquee tents manufacturer in America and provides tents to rental and event companies across the nation. With over a century of experience in tent making and innovation, we can offer advanced solutions for modern businesses.