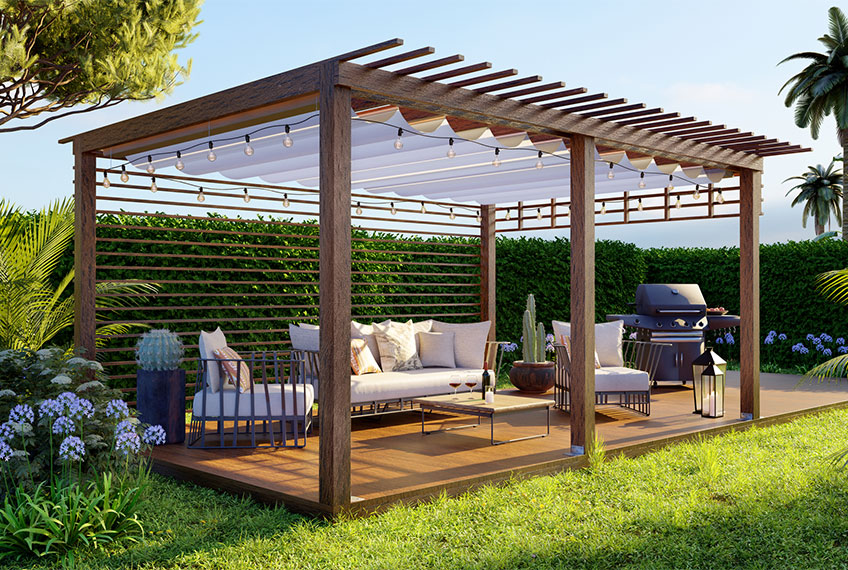 Your living area is extended by adding a pergola, and it also increases the amount of time you can spend outside. A pergola, if built and positioned properly on your property, may provide just enough mild shade to make even a hot afternoon bearable. If you still need more shade, you can always install a retractable pergola. Pergolas are also excellent investments as they may raise the value of your house. As pergolas come in all different shapes and styles, it can be hard to settle on one. It may also come down to material preferences, and how much coverage you want. Today, we'll be discussing some of the benefits that come with transforming your pergola into a cabana.
What's the Difference Between Pergolas and Cabanas?
A pergola offers periodic shade, typically divided by wood or other material slats at the top. Instead of an umbrella, think of it as being shaded by a tree. Gardening enthusiasts frequently train different climbing plants around the pillars and across the top of a pergola to create a lush green area to unwind in. This way, you can enjoy some sunlight without fully exposing yourself to the elements. It's the perfect option when you just want to curl up with a good book and soak in the beautiful greenery.
On the other hand, a cabana offers full coverage. This is an alternative for those who enjoy cooking and other hobbies that call for protection from the elements. Here's why you may consider converting your pergola into a cabana.
Cabanas are Highly Customizable
Due to the larger surface area involved in a cabana, more coverage is provided. This provides you with the added advantage of being able to customize it further according to your personal taste and style. You can grow plants up their sides, add colorful curtains and sofas of your choice, install a grill, or even add more fairy lights than before.
It's undeniable, however, that both pergolas and cabanas will enable you to create a distinctive space of your own. You can convert a specific section of your backyard into an entertainment lounge, a dining area, or a relaxing sanctuary to wind down in after a long day. Either option is a great addition to your backyard, especially if you don't have a patio or deck and want to create a space for entertaining guests and relaxing outdoors.
Cabanas Offer Greater Privacy
Pergolas that have been transformed into cabanas also offer more seclusion and privacy. Everyone wants to have the freedom to enjoy their backyards alone or with their families. Being able to retreat to a quiet area in your yard is a terrific way to unwind and forget about external parties. You may desire the same degree of solitude you have outside as you do inside your home. If you find yourself needing some space from your neighbors or if you just want to spend some alone-time while still being outdoors, consider upgrading your pergola. You can choose from a wide range of stylish panel designs that enable the wind and sunlight to filter through while keeping you away from external distractions.
Pergola Cabanas are Great for Hosting Guests
Pergola cabanas have a cozy feel to them, and conversations with your guests will flow easily if you decide to adopt a popular L-shaped seating plan for your cabana. With guests seated right beside or diagonally from you, you'll be able to enjoy your chats in a comfortable and intimate manner.
Like regular pergolas, they offer shade and ventilation due to their open design. Similarly, retractable pergolas with rotation features provide you with an added cooling experience in your outdoor space.