Universally esteemed for their functionality, durability, and general uniqueness, tents can provide a plethora of design options to any outdoor event. Whether clear, white, or colorful, the resilient structures are a stylish addition to an outdoor ceremony.
The tent style you choose should be a vital decision in planning your event. You will be able to create a safe and comfortable environment that's protected against the elements while setting the mood and stage for where the event will take place.
If you are planning an outdoor event and are seeking tents that offer a unique setting that brings the outdoors into your environment, we recommend a clear wedding tent. We offer some of the best wedding tents to suit various occasions while meeting our clients' unique needs. Here's why you should consider our clear tents.
What is a Clear Tent?
These tents are one of the leading designs accessible in most styles. With no or few internal poles depending on style, frame tents offer absolute use of the tent's interior. By design, our frame clear tents are elegant and can withstand high winds.
Moreover, they will keep your guests ensconced in the tent and unexpected weather events at bay. However, we don't recommend these tents for temperature extremes, either too hot or cold. Our wedding tents offer a distinct setting while yielding a magical effect.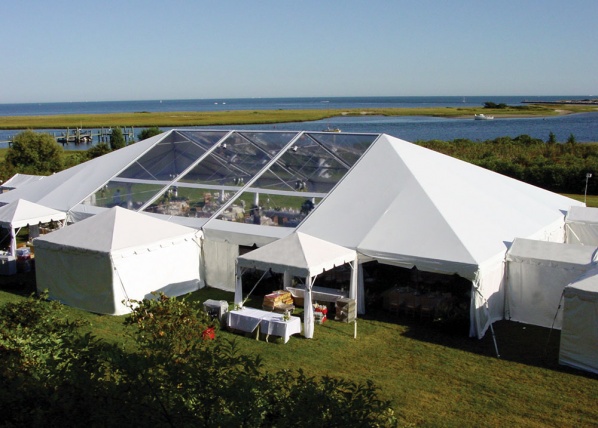 Clear tents are an apparent option for beach weddings, garden weddings, and other scenic venues. These tents come in most sizes and can accommodate any event size and allow guests to enjoy an open, comfortable, and luxurious space for enjoying festivals, weddings, and other outdoor occasions.
Their construction is similar to a conventional frame tent except their covering material is clear. They are ideal for night events during summer or throughout the day in the spring and fall months. We recommend these tents for event planners and brides because they offer a blank canvas; allowing event planners and brides to design the most comfortable and creative environment for guests.
With clear tents, floor plan choices and decorations are virtually endless. They provide unobstructed views from one end to another, permitting free movement of guests throughout the space. Their clear covering produces a distinct look at night with adjacent gardens.
Moreover, event planners don't need to worry about support beams impeding their floor plans or decorations. We are proud to be a leading wedding tent supplier; offering premium products for our diverse clientele.
Benefits of Clear Tents
They come in any size and shape
When it comes to clear tents, you can obtain them in any design. Whether it's a 20′ wide or 80′ wide, you have the liberty to choose the frame that can accommodate your occasion. At most points, it's possible to add support rafters and extensions to the structure.
No obstructions
These tents don't have interior obstructions since secure frameworks and steel spikes support them to the base plates. With no columns or poles to block the interior, moving machines and other materials are more flexible and effortless.
Fast Removal and Set-up
These tents are transportable with all its components fitting on standard trailers and trucks. You can place them almost anywhere from a paved lot to an uneven grass field.
Several Options-Sidewall/Accessories
Due to its clear design, you can arrange numerous accessories flexibly like speech stage, desk, and dancing floor. Other features, for instance, glass walls and ceiling liners are available when you choose a clear tent.
Weather Protection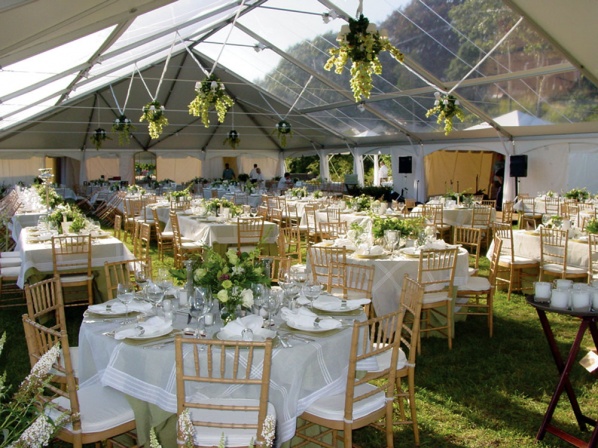 Weather is a significant factor in outdoor occasions. It's difficult to avoid unpredictable weather conditions during events. Fortunately, clear tents comprise a weather-resistant design and prevent rain and wind from ruining your occasion.
The vinyl fabric covering them is waterproof and sturdy. You can close the side wall in the case of wind or rain. Similarly, vinyl sidewalls can offer protection against adverse weather conditions. The capacity to withstand adverse weather conditions is what makes a tent reliable and excellent. High-frequency welding can seal the separate panels on the roof to prevent leaks.
Clear tents feature spacious interiors and permit flexible construction, making them perfect for various purposes. Their ease of removal and installment along with their flexibility makes them one of the most sought-after tents for various events.