Weddings are blessed events that celebrate the bonds of holy matrimony. They also bring together families, loved ones, and friends to rejoice in the couple's happiness. If planning a gala outdoor wedding or reception, you need the right wedding tents from Anchor Industries, Inc. We bring over 100 years of combined craftsmanship experience to every wedding tent we produce. From small and cost-affordable tents to advanced designs, we are sure you will find the right tent for your wedding at Anchor Industries.
Why Anchor Wedding Tents?
As your reputable and seasoned wedding tent manufacturer, we remain committed to excellence in all tents and services. From modest to fully walled modular wedding tents, we showcase the best units for all size and themed wedding events. Similarly, we use sturdy and durable materials for optimal engineering and performance. This includes our signature Navi-Trac system, which is highly versatile and easy to set up. This system enhances all outdoor weddings with hindrance-free visibility and ample room for our wedding guests and parties.
Wedding tents are designed to withstand winds over 70 mph. They also keep your guests and loved ones cool and comfortable in the shade. In fact, these reliable and affordable tents protect attendees from harmful UV sunrays. You even have options for decorating the roof lining of these lavish and elegant tents. This is the perfect way to correlate your tent with any traditional, modern, contemporary or cultural-style wedding décor and theme. At Anchor Industries, we can help you find the right outdoor wedding/reception time within time and budget.
Frame and Track Frame Wedding Tents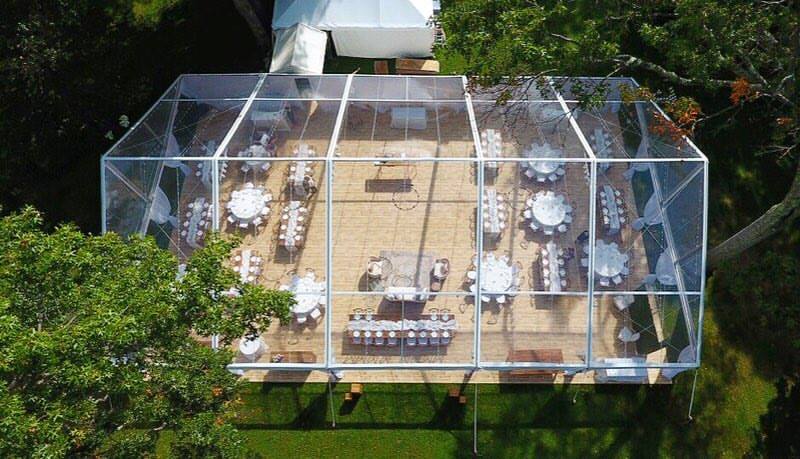 are popular options for weddings due to their easy setup and maintenance. In fact, these tents do not require staking and are highly versatile on any ground surface. Wedding frame tents also do not use center poles like traditional marquees or tension tents. This means your guests have optimal visibility without any obstacles blocking their views. Frame tents are perfect for maximizing interior tent space for catering, entertainment, live bands, tables, chairs, and all wedding related essentials.
As your premier wedding tent supplier, Anchor Industries is proud to feature standard and track frame wedding tents. In fact, our Navi-Trac Frame Systems are highly versatile yet simplistic in design. The frame can easily be set up while the panels slide through a unique track system for seamless integration and simplicity. These modular tents even allow you to choose the type of roof and walls you need for your wedding. Similarly, you can mount decorations and accessories on the roof lining, including:
Hanging plants and aesthetically-pleasing floral arrangements.
Lighting, hanging lights, light mounts, and portable – mobile spotlights.
Cathedral windows and clear wedding tent styles are available for wall and roof sections.
You can hang a wedding – reception banner on the entrance/exit of the tent if desired. Similarly, you can mount wedding wreaths and so many other lavish and elegant accessories with ease.
Tension Tents for Weddings
Tension tents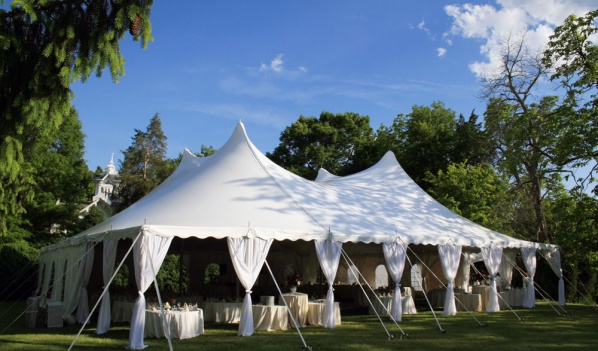 offer high-end results with great visuals. These traditional yet aesthetic tents soar remarkably high and offer maximum canopy coverage for all wedding parties. In fact, our signature Aurora Tent is the perfect sail cloth luminous tensioned pole tent for all outdoor gatherings and socials. This tent and all Anchor units are made from the highest quality of materials. This ensures durability and low-maintenance across the board. Save time and money with this uniquely designed tent that is sure to enhance your outdoor wedding or reception.
At Anchor Industries, Inc., we continue to receive great industry ratings and customer reviews. We are always here to answer all your product-related questions and concerns. With the best wedding tents and a growing inventory, why go anywhere else for your outdoor tent needs? Simply contact us today to discuss your wedding tent options and needs.
For more information on Anchor wedding tents, simply contact us today or visit our website.