No matter the forecast, the weather can never be fully predicted. Tents and awnings for sale can help to protect guests from the weather at any event, but you'll still need a strategy in place to ensure that your temporary structures remain stable.
You can mitigate the effects of rain by being vigilant. Tension and pole tents are most at risk of movement when soil conditions change. Anchoring and guy lines can loosen, and tensioning will need to be continually monitored and adjusted.
Here's what you can do during unexpected weather events when you're using Anchor Industries tents.
Safety First
As soon as the rain starts to fall, you'll need to start monitoring your surroundings. As water enters the soil, stakes will begin to loosen and will pull upwards towards the tension of the tent. This will become apparent in the form of loose guy lines.
Excess slack can sometimes be re-tensioned if the stakes are still relatively secure in the ground. However, continued rainfall will loosen the anchoring and could require a new strategy. Wind can contribute to the problem, creating more upwards tension and slack in your lines. Gang staking may be suitable for installation in wet or loosely compacted soil. Gang stakes use heavier baseplates, usually with three connected stakes. These provide superior tensioning and retention even in adverse conditions.
If you're concerned about the weather, then you could avoid the use of stakes altogether. Tent canopy weights, like Block and Roll, can be used in place of stakes, and they will resist both wind and rain. Weights won't move even as ground conditions change, keeping your canopy secure in its place.
In addition to weights for your guy lines, you could also use securing weights at pole bases to ensure that there is no lateral movement of the tent in windy conditions.
Pole tents are ideal on uneven grass surfaces because they tolerate the slight changes in elevation. If you will be setting up a frame tent on soil, make sure that it is leveled and perform regular inspections of each section during rainfall.
In the worst-case scenario, inclement weather could require an evacuation of the venue. Even the highest quality tents and awnings for sale have their limitations. Don't risk the safety of guests. Better yet, plan events for the months when rainfall is least likely.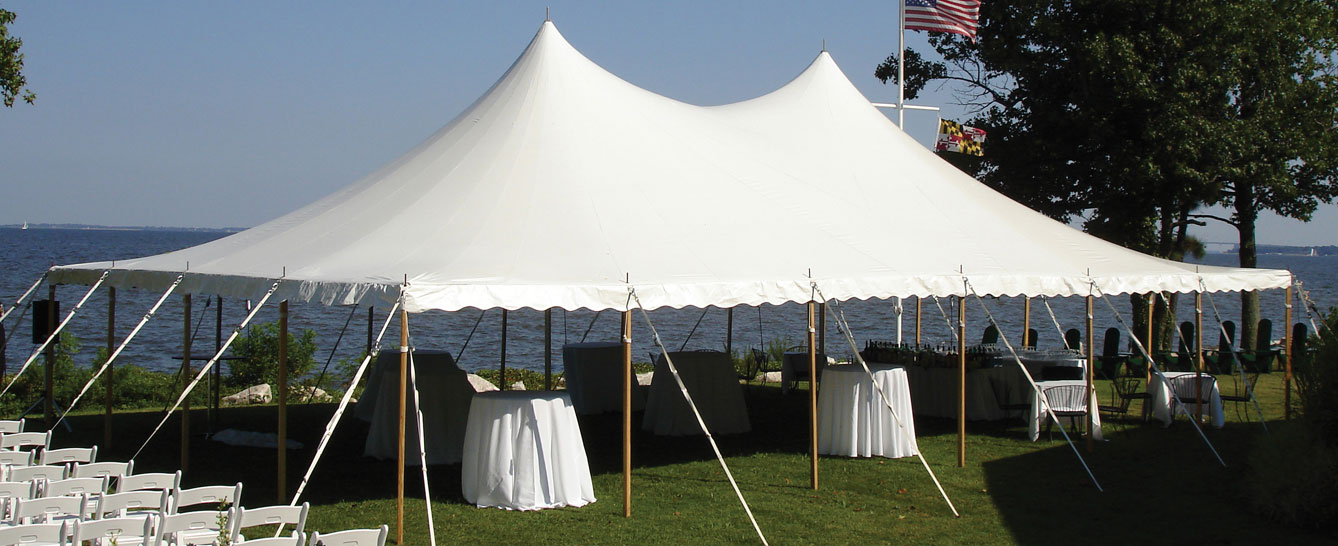 Consider the Comfort of your Guests
Light to moderate rain and wind will be no challenge for Anchor Industries tents.
Wall panels, like those available on modular frame tents, should be utilized any time that rain or wind is a possibility. The best tents offer a vast selection of wall sections, including clear, cathedral window, and solid walls.
Connecting marquees can be used to join freestanding tents together while providing guests with shelter as they move to different areas.
Temporary flooring should be used for every tent installation. This will keep guests comfortable by creating a barrier above the grass and soil. Temporary flooring will also protect the grounds where the tent is being installed.
Choose the Right Tents and Awnings for Sale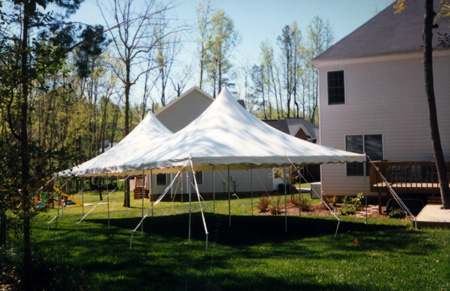 Whether you manage events or offer tents for hire, having the right inventory could lead to higher sales figures and repeat business from your customers. A reliable tent manufacturer will be your partner in success.
Anchor Industries Inc. is a leading tent and awning canopy producer with over a century of manufacturing experience in the United States. Our tents are designed to withstand the harshest operating conditions, exceeding industry standards in many areas. For weddings, corporate events, trade shows, and even storage, we have the temporary solutions that can increase your bottom line.
Our products are trusted throughout the United States and around the world. Our tents are precision-engineered and offer long lifetime to maximize your investment.
Browse our selections today and choose safer and more reliable tents that help you to achieve your business goals.