Playgrounds are where children expand their social capacities and illuminate their minds with fun-filled events and activities. However, the concern of most parents – apart from biting insects – is harmful UV rays beating down on their loved ones. The excessive sun is notorious for causing sunburn, as well as skin rash and spots. With this in mind, Anchor Industries Inc. features a fine line of commercial shade structures for all types of outdoor gatherings and events. This includes family picnics, celebrations and community gatherings, along with team-building events and corporate product launches.
Permanent Umbrellas for Outdoor Gatherings
Staying in the shade is important for preventing sunburn and UV rays. At Anchor, we showcase FUNbrellas that keep both children and adults cool and comfortable for any type of outdoor event. These durable commercial shade structures are cost-effective alternatives to large gazebos and pavilions. Similarly, they are specifically designed for areas where natural shade is not available. Whether for playground shade, outdoor cafes or seating areas in parks and recreational areas – these sturdy units are made from aluminum and painted steel frames. You also have access to a rainbow of colors and fabric options, as well as breathable mesh tops and acrylics.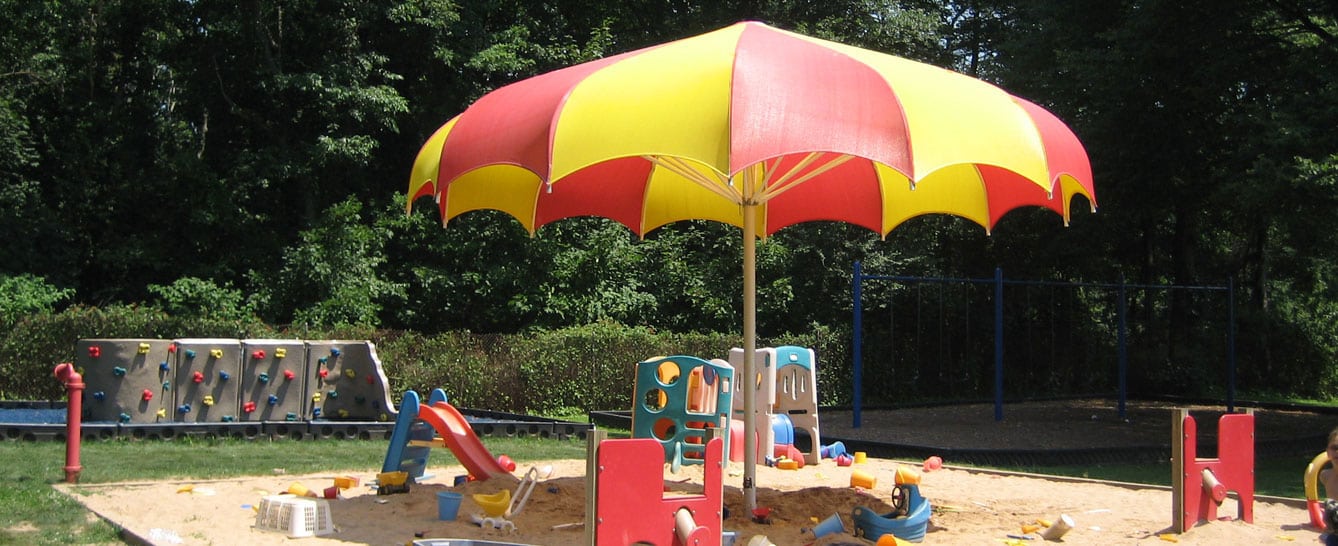 What Are the Benefits of a Shade Structure?
Here are some more advantages of purchasing FUNbrellas from Anchor Industries:
These units are great for poolside lounging areas where limited shade is available.

Permanent shade structures are easy to maintain and offer unparalleled protection from harmful UV rays.

These structures are perfect for outdoor patios, decks, pools, water parks, playgrounds and other play areas, resorts and recreational areas-parks.

FUNbrellas are available in three styles for optimal choice and convenience. This includes the

FUNbrella Classic

which is retractable, durable and easy to set up and maintain. This shade structure features a mushroom shape and is available in a range of colors. Twelve-foot and 20-foot models are available.
The FUNbrella Palm
When it comes to commercial shade canopy, consider the FUNbrella Palm for your outdoor shade canopy. This durable non-retractable umbrella is made from high-density polyethylene fabric. The 20-foot wide shade structure continues to receive great industry ratings and customer reviews. Similarly, it's perfect for public areas like playgrounds, parks, schools, pools, and even home or business outdoor seating sections.
For some added fun for the kids, the FUNbrella Shark is designed in a catenary style and has the same features as the FUNbrella Classic. With a clean and modern look, this unit allows you to swap out tops between the Shark and Classic any time of the year.
Anchor Canopies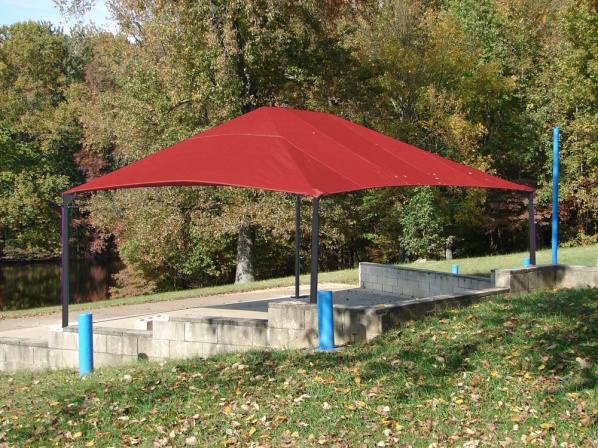 Anchor PERFECTSHADE canopies feature sleek designs and offer wider coverage for all outdoor lounging areas. We showcase a full range of sizes for residential – commercial patios. These durable, sturdy units are great for baseball concession stands, as well as sports, parks, swimming pools, playground equipment, amusement parks, and childcare facilities. With our signature PERFECTSHADE, you and your family get maximum UV protection, optimal cooling, and comfort.
The PERFECTSHADE features an awning made from Anchor UV Shadecloth. This allows you to install this unit on concrete pads or other hard surfaces. With your purchase, you get a heavy baseplate and anchoring bolts that are wind resistant and protect your shade from moving out of place. For your backyards, we are proud to offer the Fiesta Patio Canopy. This DIY unit can easily be installed over your patio for a comfortable and trendy outdoor living space. As always, the Fiesta prot
ects your events from sun and rain. We feature widths ranging from 10 to 25 feet. with slopes that can be customized to meet the unique styles of your patios and/or outdoor seating decks.
Shade Structures from Anchor
Cabanas are ideal for backyards and poolside areas. These units truly protect you from the sun and its harmful UV rays. We feature the Aloha Cabana with an aluminum frame that is corrosion free and rust-proof. The top of this commercial shade features Ferrari Soltis W96 fabric, optimal sun and protection and rain-resistant features. This product is also easy to assemble, maintain and has a bolt down area that keeps it from sliding when hit with gusty winds or torrential downpours.
For more information on staying cool with commercial shade, simply contact Anchor Industries Inc. today or please visit our website. We have several shade solutions to offer and are happy to assist you.