Whether you operate a water park, hotel, or any commercial establishment, having adequate outdoor shade is essential. Providing comfortable seating areas for your patrons will ensure that your brand is recognized and elevated above your competition. Commercial patio umbrellas are not a trivial investment. You'll need to choose carefully if you want a solution that provides a long return on investment.
Before you upgrade your outdoor spaces, consider all the benefits that you can get from precision engineered Anchor Industries shade products.
Commercial Patio Umbrellas Add Comfort and Appeal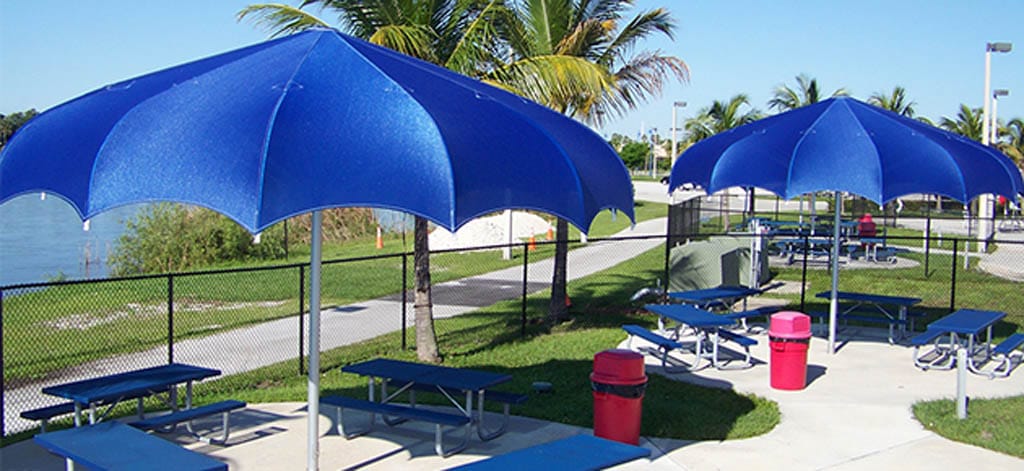 Everything you do in your business is a form of branding. From the layout of your outdoor areas to the amenities that you provide; your decisions will influence the success of your business. To generate and maintain customer loyalty, you'll need to provide comfortable and appealing spaces that can be used year-round.
Anchor permanent umbrellas were designed to withstand the harshest operating conditions at water parks, outdoor events centers, hotels, and other commercial spaces. They are chemically stable and provide protection from heat and damaging UV rays.
Commercial patio umbrellas are designed using rugged and durable materials that will ensure a long return on your investment. Materials like stainless steel and woven acrylic will give you confidence knowing that your umbrellas will be safe in some of the most demanding environments. In fact, our Funbrella® models have been proven to last 5 years longer than the average commercial shade umbrella. Permanent umbrellas can withstand 3-second wind gusts up to 90 miles per hour, making them perfect for installation in large open areas.
Most importantly, your customers will appreciate your investment in quality shade products. If you can provide more comfortable and attractive environments, then you'll see your patrons coming back again and again.
Custom Branding and Styles that Drive Repeat Business
You can further the likelihood of increased business and brand recognition by investing in custom commercial umbrellas for sale.
With Anchor umbrellas, you can enjoy extensive material selections with woven acrylic patterns in a rainbow of colors. We even offer two-tone finishing for a classic look. Match your company colors or create a fun and attractive environment with a variety of different hues.
For the most effective branding, we can print custom graphics on your umbrella canopies, giving you the brand presence and recognition that every business strives for.
Don't buy boring commercial umbrellas that don't meet your branding needs. With custom graphics and color choices, you'll enjoy organic brand exposure with every customer that comes through your door.
Benefits Beyond Looks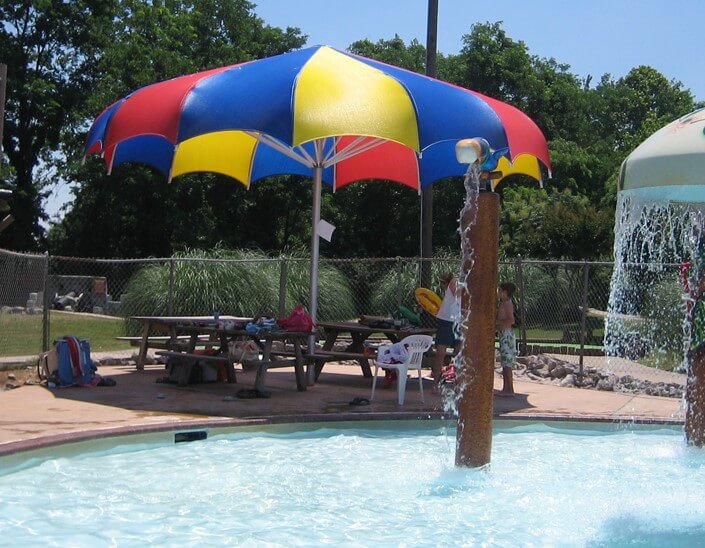 You'll get more than just great aesthetics when you invest in quality commercial patio umbrellas. The whole point of installing umbrellas is to provide comfortable, shaded seating areas. This will do more than just keep your customers happy. It will also help to protect their health.
Woven acrylic fibers are recommended by the Skin Cancer Foundation to reduce UV light exposure and prevent skin damage. Prolonged exposure to the sun can increase the chance of developing skin cancer, especially in children. If you operate a business where patrons will be spending a lot of time outside, particularly at a water park or resort, it's your responsibility to take care of your guests.
Shade umbrellas will help you to meet your obligations, giving peace of mind to you and your guests.
Finding the Best Commercial Umbrella for Sale
Anchor has been engineering state of the art shade solutions for over a century. Our extensive commercial patio umbrella options will allow you to make a real investment that pays off for years to come.
From our permanent umbrellas to canopies and cabanas, you can find the perfect solution for your business needs. You'll save money with longer lasting products while providing your customers with comfortable and safe outdoor areas that can be used all throughout the blazing summer heat.
Explore our range of commercial umbrellas for sale and make the right choice for your business this year.