A home swimming pool is one of life's greatest luxuries, making summertime more fun for friends and family. Strong bonds and lasting memories are formed in and around your pool.
Of course, there will be times of the year when your pool isn't used, which is when swimming pool covers become necessary. With a cover you can keep your pool safe while also preventing algae growth and debris buildup.
Both mesh and solid pool covers can be ideal in the right conditions. Take a look at the benefits of both to find out which would be perfect for you.
The Benefits of Mesh Swimming Pool Safety Covers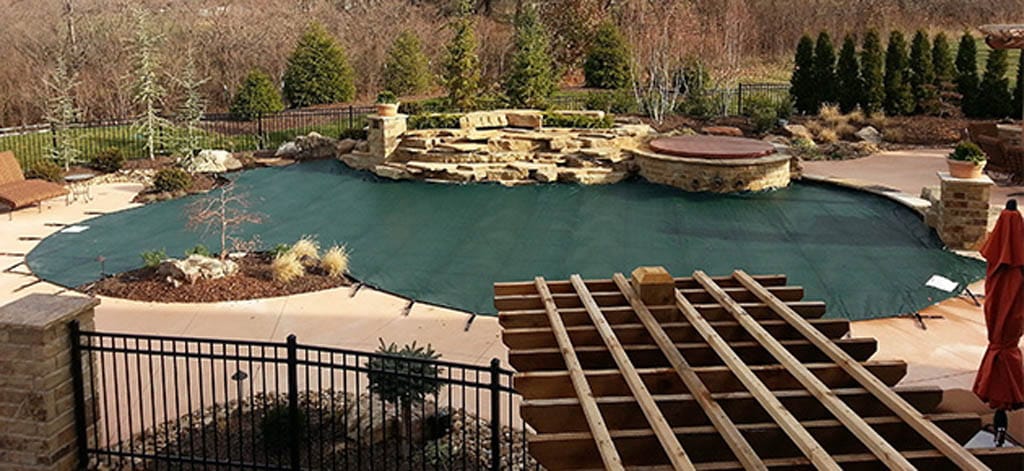 Mesh covers are made with a custom weave fabric that can block out most UV light, greatly reducing algae growth when your pool isn't in use. They protect against accidental entry and can be easily folded and stored during the swimming season.
Mesh swimming pool safety covers will protect against solid debris like leaves and sticks, although they can let some fine debris like dirt and dust into your pool.
The biggest advantage of a mesh cover is that it will be self-draining. Water will fall through the cover, eliminating the need for a submersible pump on top. This does mean that there will be some extra cleaning needed when you use your pool again, but for many owners, this is more desirable than having to use and maintain a pump.
Best of all, mesh covers often last longer than solid covers, with most owners getting between 12 and 15 years of a lifetime from a high-quality cover. When you choose Anchor Industries mesh covers, you will enjoy peace of mind with a limited 12-year warranty.
Solid Anchor Industries Pool Covers
If you want complete protection from UV light and rain, a solid cover will be your best option. These covers typically last around 10 years and come with a higher cost when compared to mesh swimming pool safety covers.
With complete UV protection, you could virtually eliminate algae growth when you aren't using your pool. A solid cover also blocks all debris, dirt, and dust. This results in a cleaner pool that will require less maintenance throughout the year. Cost savings could be significant, depending on the size of your pool and how often you use it. For this reason, many homeowners choose a solid cover, despite the higher price.
Keep in mind that if you do use a solid cover, you will need to use a submersible pump on the top side to remove any rainwater that collects on top. Pumps can last up to five years before requiring maintenance or replacement.
Replacing Pool Covers the Simple Way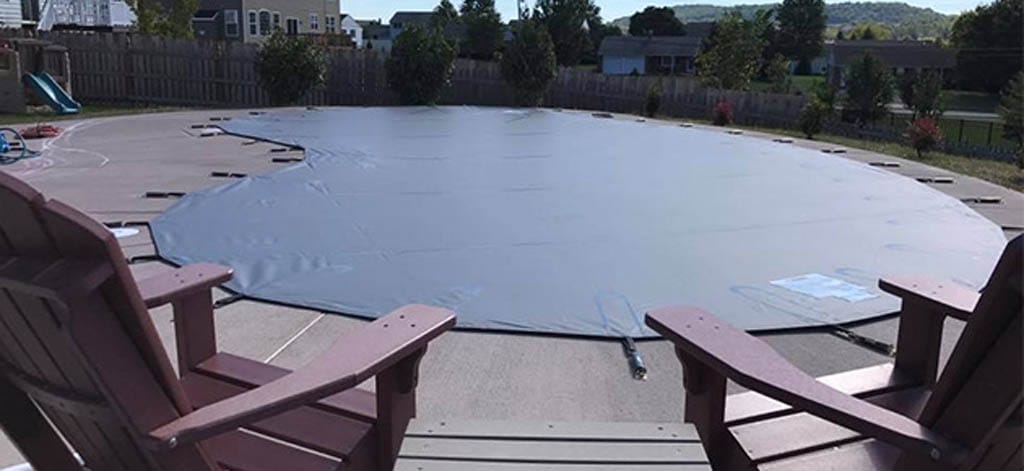 At Anchor Industries, we understand that many homeowners simply don't have the time or even the confidence to measure their pool covers for replacement. We've developed a simple turnkey replacement safety pool cover program that makes the process easier than ever before.
Rather than having to measure each point of your pool perimeter, you can instead work with one of our authorized dealers to ship your old pool cover and have a direct replacement product made. This means no odd lines or edges, no sagging, and no problems with a pool cover that just doesn't fit.
We will custom fabricate a cover using our highly reliable Anchor Mesh and Classic or 5-Star Solid materials. We offer this service for commercial pool operators too, so you can get a cost-effective replacement that will provide you a long return on your investment.
Our network of dealers spans the United States, and you can get started by entering your address or postal code on our Easy Locator map.
There's never been an easier way to get a direct replacement for old pool covers.
Trust in the Highest Quality Swimming Pool Safety Covers from an Industry Leader
Whether you need mesh or solid safety pool covers, Anchor Industries is the manufacturer that can deliver a product that exceeds your expectations.
We bring both innovation and proven techniques to the market, including welded construction, debris-resistant surfaces, and 100% UV protection with products like the Anchor Classic Solid. Explore the range when you need pool covers that continue to perform, year after year.
Enjoy safety and peace of mind at your home or place of business when you choose Anchor Industries.