The best events managers and wedding planners know that the quality of their tents can influence their success.
Choose a tent that doesn't fit the location, the wedding party and the guests, and things just won't come together. Choose the perfect tent, and all the smaller details can become so much easier.
Tents are just as important as catering, music, lighting, and everything else that goes into making an event special. Perhaps this is why so many planners now work almost exclusively with clear top tents for weddings.
There's something very special and unique about using a clear top tent. It can bring a seamless connection between the event and the surroundings. Expansive outdoor properties are brought to life with clear top tents.
Clear tops are also ideal for events that will run into the night, providing a backdrop of a starry sky that will mesmerize every guest.
When planning a wedding or any similar high-profile event, knowing how to get the most out of a clear top tent will be essential.
Simple Decorating Tips to Make a Clear Top Tent Look Even Better
1) Use Trees and Lanterns for Lighting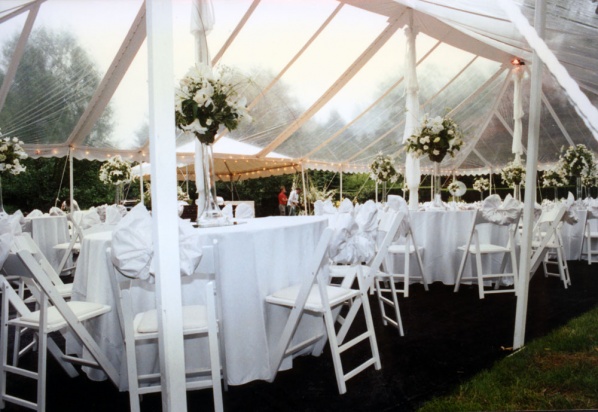 Clear top tents help to create a seamless transition between the tent interior and exterior. You can take things a step further by incorporating living plants with hanging lanterns for evening lighting. Potted trees like young birch trees make for great interior decorations. Hang lanterns from branches for a magical look and feel. For an even better effect, include natural timber guest furniture and matching table arrangements.
2) Combine Bulbs with Hanging Greenery
Perhaps bringing young trees inside isn't an option for the event or the location. Another way to bring a beautiful natural look to a clear top tent is with the use of hanging greenery and naked hanging lightbulbs. Designer bulbs look wonderful with hanging vines and other floral displays. Clear span tents will give you plenty of space and modular mounting options for hanging features.
3) Light Up the Canopy
Worried about an overcast night taking the splendor away from your clear top tent? If nature isn't going to put on a show, then create your own with fairy lights or a hanging sea of orb candles or lanterns. You could create a canopy of stars which will look great against the backdrop of a dark night's sky. This is a fantastic way to make clear top tents for weddings really stand out. After all, what point is having a clear top tent if you don't draw attention to it?
4) Choose a Location That Accentuates the Ceiling
Clear top tents will offer very little in the way of shade during the day. You could use modular shades if you need to, or, you could choose to position the tent somewhere that creates some real impact. In the shade of an impressive manor house, or under the canopy of some mature trees – positioning is everything.
5) Keep Things Bright and Reflective
No matter what you do in terms of decoration, be sure to keep things bright and reflective. Natural greens and earth tones work perfectly under a clear top tent. White tables and flooring can accentuate the atmosphere of a clear canopy. Reflective table settings that utilize gold, bronze, and silver will shine in the afternoon light and well into the evening.
Need Durable Tents for Your Inventory? Talk to a Clear Top Tent Manufacturer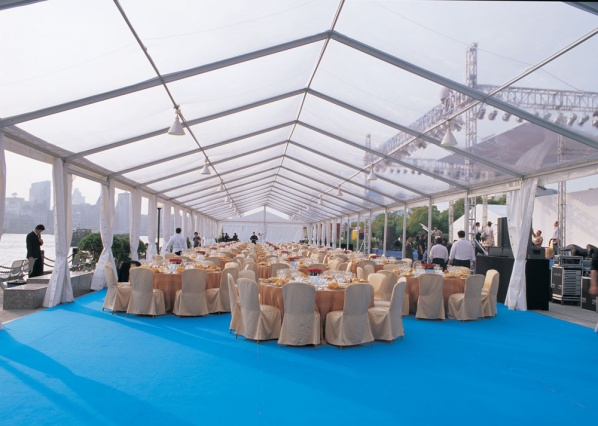 Of course, to utilize any of these tips or even your own concepts, you'll need high quality clear top tents to start with. Anchor Inc. can offer clear top tents for sale, designed and engineered to exacting specifications. With more than a century of experience in making the highest quality tents and canopies, we're the perfect company to provide your inventory.
Whether you offer tents for hire or manage events from end to end, having a trusted clear top tent supplier will mean you always have the right equipment to impress your clients.
From our popular F3 Frame Tent to Navi-Trac® (Navi-Track) flexible systems, you can find the perfect solution for your needs and your budget. Explore our complete range of tents today and order in confidence from a top American manufacturer.