Pools are wonderful additions to homes with hours of non-stop enjoyment for loved ones. In fact, poolside areas are perfect for reading, relaxing or taking in the summer rays. Similarly, pools are great for winding down after a long day at the office or school. With this in mind, these structures must be maintained and protected at all times. With Anchor Industries pool covers; you get durable and sturdy units that protect your pools from leaves, branches, and falling debris. These covers protect your swimming space and are manufactured to meet all pool sizes and shapes.
Your Premier Pool Cover Manufacturer
Anchor Industries, Inc. brings over 40 years of experience to your residential or commercial pools. In fact, we utilize cutting-edge technology with proven safety features to protect your swimming areas. Whether for creatively-designed or traditional pools, we offer custom pool covers that will fit any shape or style. Our highly-dedicated team is always available to help you select the right pool cover for your needs. Similarly, we work with you to determine the best covers for both aesthetic and function. Here are some advantages of investing in an Anchor pool cover today:
Protect loved ones, guests and pests from accidental entry into the pool.
Pool covers protect your units from inclement weather, gusty winds, leaves, debris, branches, and even insects.
Keep your pool clean and pristine during the winter months. Pool covers keep your pools well-maintained for use in the spring and summer seasons.
Pool covers offer dependable protection, and are available in a range of styles and materials. This includes solid pool covers, along with mesh and much more.
Pool covers are aesthetically-pleasing and easily blend in with your poolside design and décor. They also capture heat to reduce water heating costs, as well as lower maintenance and service costs for your pools.
Solid Pool Covers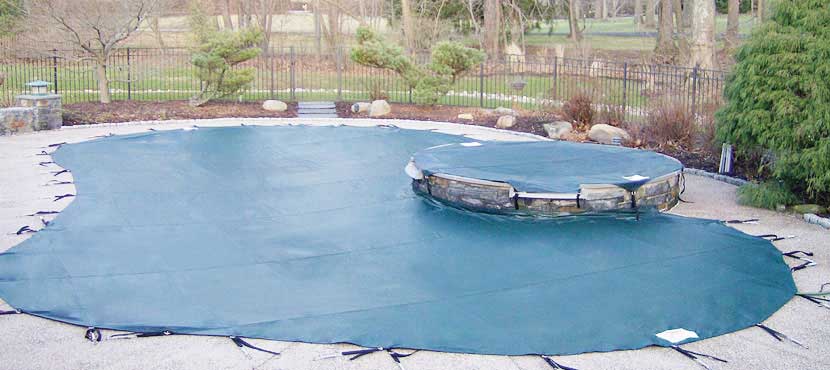 Anchor Industries, Inc. features Solid Pool Covers that ensure maximum safety and protection for your pools. In fact, the Classic Solid Safety Pool Cover and 5-Star Solid Safety Pool Covers are made from 14 oz. vinyl-coated fabric. This secures smooth surfaces for pools for easy debris removal. With super strong fabrics, these durable and sturdy covers are designed to last for years to come. In fact, they resist rips and tears, while protecting your pools from harmful UV rays and sun damage. They even protect your units from chlorine effects, while keeping loved ones and pets from accidentally falling into the water. Here are some more perks of Solid Pool Covers for your home, fitness center, recreational venue and more:
Pool covers protect your units from algae growth. They also keep your pools nice and cool, as well as pocketing the heat to lower energy consumption costs.
Sturdy covers make it easy to clean up debris for spring and summer use.
Anchor Industries, Inc. solid covers are treated with antimicrobial to resist mildew and mold growth. They also prevent germs, odors, and insects from gaining a foothold on or within your pools.
All pool covers are relatively easy to install and remove when not in use.
The Classic Pool Cover and 5-Star Pool Cover come with limited 10-year warranties.
Mesh Pool Covers
Mesh Pool Covers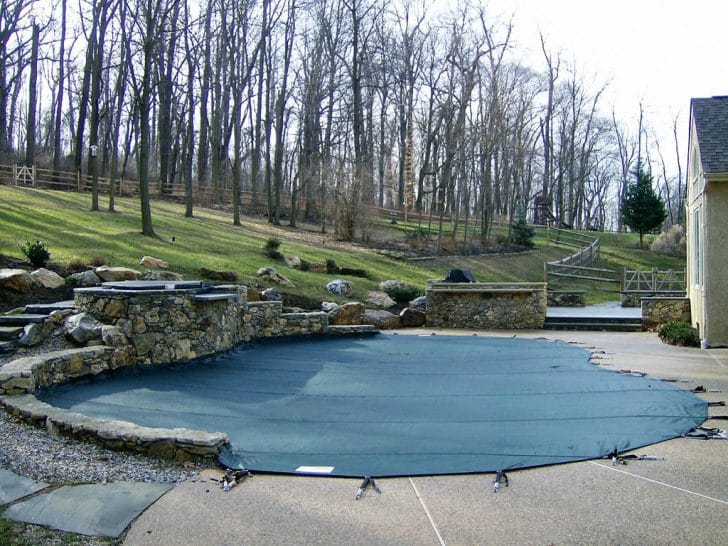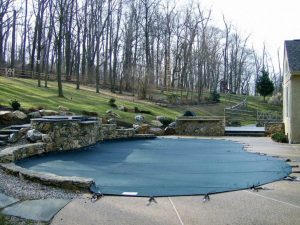 protect your pool and prevent kids and pets from falling in. Similarly, the stretch across your entire pool, and are designed to protect the water from falling debris, leaves, dust, dirt and other elements. We are proud to showcase the Anchor Mesh Safety Pool Cover and Defender Mesh Safety Pool Cover for your needs. These covers are lighter in weight than our Solid Covers line. At the same token, they are easier to install and handle, and reduce chemical loss from your pool's water. Here are some more benefits of mesh pool covers for residential and/or commercial pools:
Mesh covers block debris from entering the water.
These user-friendly covers protect your loved ones and pets from accidentally falling into the water.
Anchor Industries, Inc. mesh covers are easy to fold and put away when not in use.
These covers are perfect for traditional pools, modern-design pools, and even pools with irregular or unique shapes. That is because they cover the entire surface of the pool for optimal protection and performance.
We also feature a replacement program for pool covers. Simply contact us for more information today.
For more information on cost-affordable pool covers, contact us today or visit our website.