Commercial shade can provide necessary protection to your customers during the warmer months of the year. They're widely used throughout the restaurant and hospitality industry, resorts sector, water, and amusement parks industry, and even at sports grounds and parks.
Anchor Industries is a leading commercial shade manufacturer, offering several high-quality products that are versatile for different applications. If you think your business could benefit from shade structures, but you aren't sure where to start, this is the guide for you.
Permanent Umbrellas for Waterparks, Hotels, Restaurants and More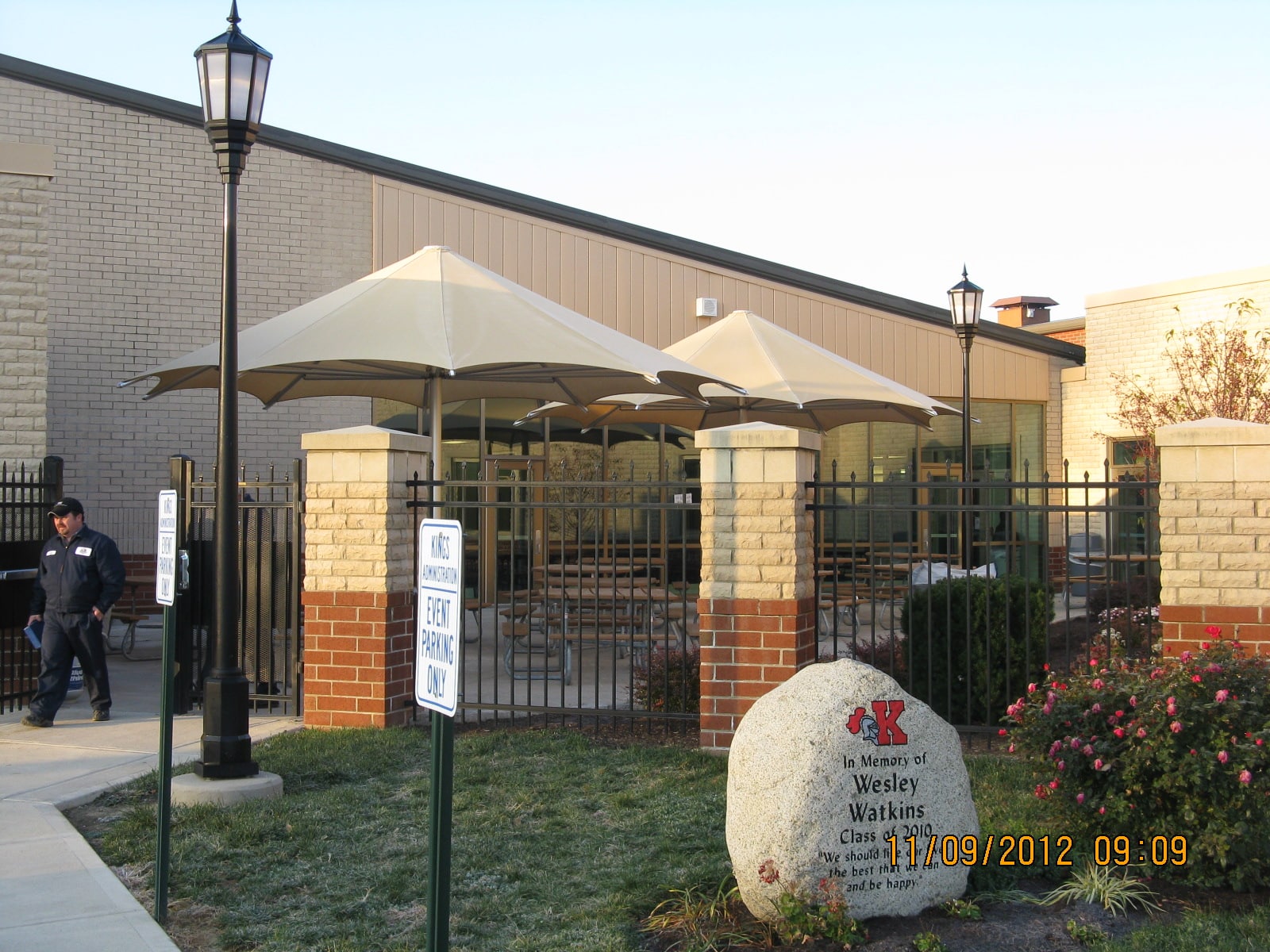 Umbrellas are amongst the most frequently used commercial shade solutions for businesses. The right umbrellas can provide ample protection from the sun, making them perfect for outdoor areas like pool patios, picnic sections, cafes, and general dining or seating areas.
Umbrellas are most commonly used at waterparks, hotels, and resorts. The best quality commercial shade umbrellas are made from chemically stable materials that are ideal for environments where salt or treated water will be present.
While most commonly used around pools, umbrellas are also seen for café dining, shade around tables at parks and sports events centers, and even at outdoor dining tables at commercial office buildings.
Umbrellas are versatile and relatively affordable, and durable Anchor umbrellas are designed to stand up to 3-second wind gusts at up to 90 mph.
Choose umbrellas if you need to create numerous small shaded areas in a large open space.
Permanent Canopies for Commercial Installation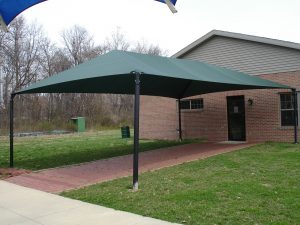 Umbrellas work well in many situations, but they might not be the ideal commercial shade structures if you're seeking a single permanent shelter.
Canopies could be the best solution if you want to cover a seating area, playpen, sandpit, or any other area on a commercial or public property. Canopies provide even higher wind resistance when compared to umbrellas. PerfectShade® from Anchor Industries is engineered to exceed ASCE 7-10 specifications, making the canopy able to withstand 3 seconds of 115 mph wind gusts. Large sizes up to 20ft. x 20ft. will ensure a large coverage area for any commercial or public space.
Anchor understands that needs can change from installation to installation, so six unique square and rectangle configurations are available.
Strength and durability are important when investing in a shade structure. PerfectShade® is made with a steel frame that is powder-coated to provide protection against dust, dirt, and moisture. The frame also ensures stability when installing following manufacturer recommendations.
PerfectShade® comes with a UV Shadecloth that blocks up to 95% of UV radiation, providing all day protection from sunburn that could lead to skin damage and even cancer.
Best of all, there's a 10-year manufacturer's warranty on the canopy, giving you peace of mind in your investment.
If umbrellas don't suit your property or if you simply want a different aesthetic, a shade canopy could be perfect for you.
Commercial Awnings for Storefronts and Entryways
Just as you need to protect guests outside, you also need to protect your interiors from direct sunlight. Awning canopies are the ideal solution, and they can provide unique benefits to your business.
Awnings can be custom made to fit any window size. They can also be used for entryways to provide protection from sun and rain. In addition to providing shade, awnings also:
Reduce fading and wear on interior surfaces and furniture.
Help to keep water and debris off your windows and glass doors, keeping your maintenance needs low.
Reduce ambient temperatures inside, lowering your cooling costs.
Come in custom color and branding options. You could market your business from the outside with a more attractive storefront.
Commercial awnings can be used for restaurants, bars, delis, grocery stores, offices, retail stores, and any other business that needs additional protection from the sun. They can greatly improve the aesthetics of your commercial façade, which could help to increase customer foot traffic.
Get the Best Commercial Shade Structures in America
Anchor Industries is the market's best commercial shade manufacturer, and with over 100 years in business, we carry a reputation that is recognized throughout the industry.
If you want solutions that are designed to last, that resist wind and rain, and that provides sun coverage as recommended by the Skin Cancer Foundation, it's time to talk to us. Explore our shade solutions today and use our online contact form to talk about ordering and customization.