At Anchor Inc, we provide a variety of different custom products ranging from tents, awning, shades, pool covers and more. One of the products that we offer is known as clear top tent structures. These are tents or tent structures that have see-through roofs and in most cases, the side panels are also clear. they can be used for a variety of applications ranging from corporate events, reunions, weddings, birthdays and more.
Clear top tents can be used at events to provide protection against the natural elements like rain, snow and even debris during the fall season when trees begin to lose their leaves. Unlike a solid colored tent, the clear top tent does not obstruct the natural beauty of the night time stars or day time skies. There are several options available when it comes to tents with clear roofs, many of which are very easy to assemble and disassemble. In this blog post, we'll go over 3 common applications that our customers are using clear event tents for. To learn more about the different options, contact one of our local dealers or visit our clear top tents page.
Clear Top Tents For Wedding Events
In many cases, clear top tents are used for weddings. Unlike our other tents for weddings that have solid colored tops, the clear ones allow the natural light to shine through the roof brilliantly. As shown in the images below, clear tent structures can be decorated in a way that truly creates a beautiful scenery for a wedding venue. With the right catering, DJ, furniture and decorations, an outdoor wedding with a clear top tent can create a beautiful area for a wedding dinner or dance floor. Aside from having a stunning look, clear top tents can also provide a great value when compared to renting a traditional location for a wedding venue. Many customers have been able to reduce expenses for a wedding location by using a clear top tent vs renting an already established venue that has its own shelter in a desirable location.
If you plan to have your wedding during the night time, clear top tents might be the best option. During the night time, you can see the stars and moon while keeping the natural elements and insects out by closing the side panels. Overall, a clear top tent structure for a wedding is something to consider if you're planning a wedding in the near future. To rent, buy or to learn more about clear top tents, visit our dealer locator to find a dealer near you.
Clear Tents For Corporate Events
When its time for a corporate event that is going to take place outdoors, what better way to provide shelter than a clear top tent? Many companies rent or even purchase their own tent structures with clear rooftops to provide shelter during yearly outdoor events or activities. One of our own proprietary track frames known as Navi Trac which is one of the most robust systems for creating a tent structure. Setting up a tent with a Navitrac Tent requires no stakes and is very easy to assemble/disassemble. Navi Trac frames are available in 30', 40', and 50' widths. The tents that we manufacture use interchangeable parts that are pre-labeled which makes it a breeze to know which parts belong where. The Vinyl fabrics used for our tents are extremely tough, durable and also look wonderful.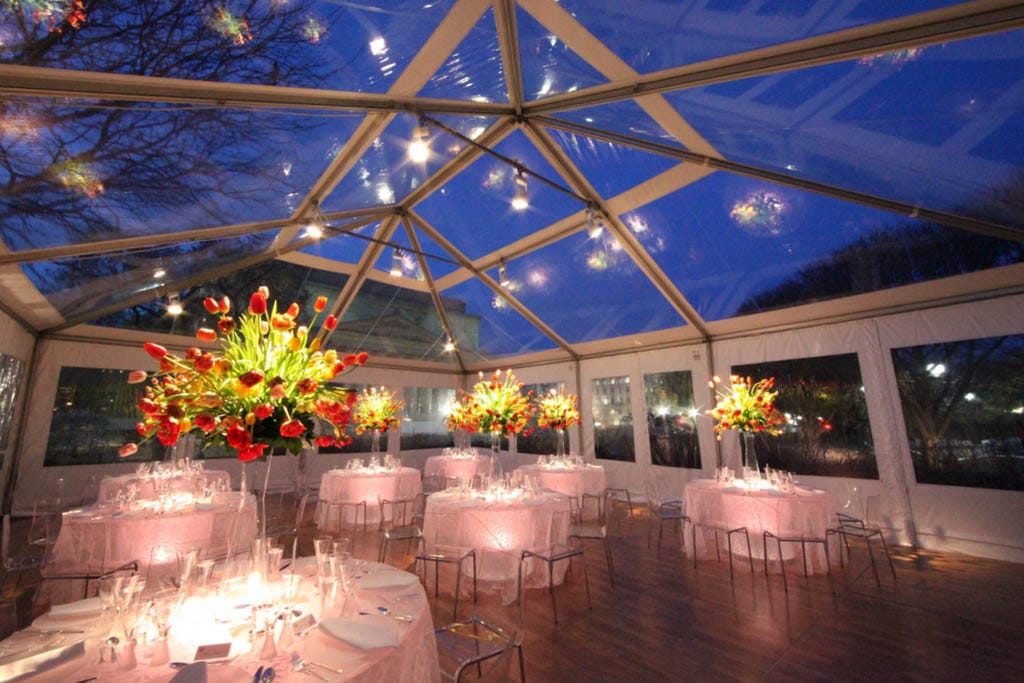 Clear Top Tents For Large Parties
A large clear top tent structure can be used for almost any type of party and it can easily provide shelter to a large number of guests. Depending on the size of the tent structure that you rent or buy, you can likely fit a large dancing area, separate dining area and even an area for a DJ. Rather than renting out an indoor space that lacks natural lighting and scenery, choose a clear top tent that allows you to admire nature while being protected from the elements.
As you can see from the images there are many ways to decorate your clear event tents that will create a memorable occasion. There are various types of hanging LED lights that can help bring your tent to life for that special occasion. To get some ideas on how to enhance your framed tent we encourage you to read our blog post titled "5 WAYS TO ENHANCE YOUR FRAME TENTS FOR ANY EVENT" which will give you great ideas for lighting, air conditioning and more.