As restaurants start to reopen, they now face a new challenge which is maintaining the social distancing of customers on their premises. Although guidelines can vary from state to state, many restaurants are now in charge of their own social distancing mechanisms and rules. If you own or run a restaurant, this is something you have to do to ensure the safety of customers. Your staff will need to use personal protective equipment while working. You will also need to ensure social distancing using proper ways. Read on to learn more about the top tips for implementing social distancing in your restaurant!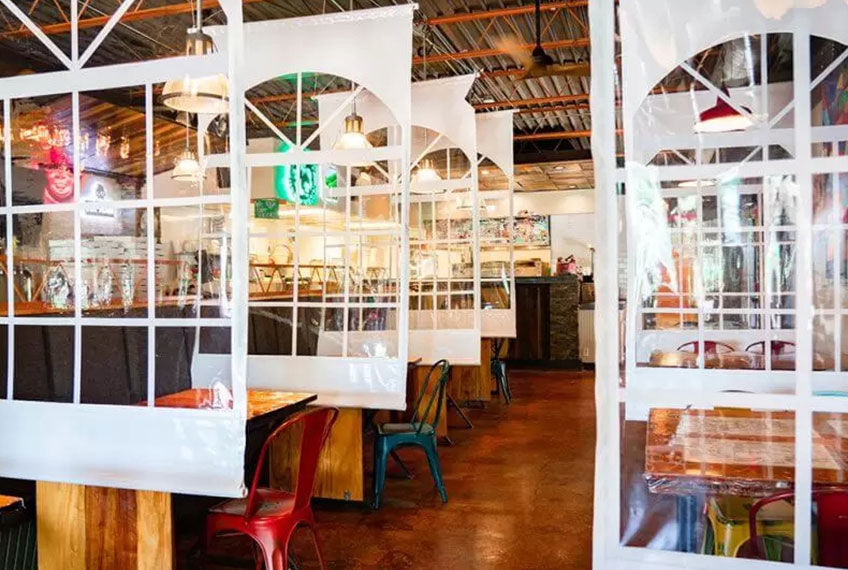 Social Distancing Starts At The Door
Social distancing starts even before the customers even enter the restaurant. You want to create signage for the main entry telling customers to socially distance themselves from one another. You can use a sidewalk sign or place a sign on the door itself. Set expectations about mask use, the appropriate social distance between people, and movement policies within the space.
Mark Spaces 
People can be bad at judging distances. That is why you need to give them guidance. Use floor sticker signage to mark the right distances in places for them to stand. This can include the entry point, the cash wrap, and the hostess stand. Measure out the placement of signs and floor sticks to make sure they are placed about 6 feet apart or more.
Safety Shields And Protective Barriers
One of the main physical changes in restaurants is the use of protective barriers and safety shields. This is a difficult decision to make and there is little guidance on what is needed and what is deemed acceptable by the inspection authorities. A safety shield should be a non-permeable barrier placed between the employee and customers. This can be placed at the hostess station or cash wrap. You can use plexiglass or other material for that.
Having a barrier in place reduces the likelihood of any airborne droplets exchanging in either direction, thereby keeping your staff and customers safe. Safety shields can come in various shapes and configurations. They are usually made out of plexiglass but there are many ways they can be installed. Some are hung from the ceiling while there are those that can be mounted. There are also some that are self-standing and can be placed right on the counter-top to create a barrier.
A protective barrier is also a non-permeable barrier. The difference is that protective barriers are usually placed between groups of seated customers to enforce social distancing. The protective barriers are usually made of plexiglass as well. However, some of these barriers are made using PVC material. This material is similar to a heavy-duty shower curtain. In those cases, these barriers have to be hung from a specially designed frame or from the ceiling.
These are some of the essential steps you can take to implement social distancing in your restaurant. Both your staff and customers will be glad that you have taken these tips to ensure social distancing is maintained.
Anchor Industries, Inc. provides Durable Dining Dividers for Restaurants
What better way to create social distance than to supply personal protective equipment for your restaurant patrons? Not to worry, Anchor Industries, Inc. has you covered. With our Dining Divider®, we can assist restaurants in separating consumers from one another, reducing the possibility of infections spreading and giving your patrons and staff more peace of mind. When you deal with us, you are working with one of the industry's most experienced teams, which has been consistently exceeding our clients' expectations since 1892. Contact us today to learn more!