With the ultimate in weather protection and flawless presentation, clear span tents can elevate any event to the highest level. Whether you manage events in-house, or if your company specializes in the hiring of tents and other temporary structures, it pays to have a clear span tent manufacturer that you can rely on.
Anchor Industries Inc. is one of the most experienced tent manufacturers in the United States. Our knowledge, engineering expertise, and advanced manufacturing processes can provide you with clear span tent solutions that help your business to succeed.
A ClearSpan Tent Manufacturer with an Extensive Product Lineup
At Anchor, we've developed an extensive product lineup to offer you tents suitable for any scenario. From small private parties to large corporate events, our designs and clear span tent prices offer you flexibility through choice.
View all our product lines at a glance and discover the clear span tents that best suit your business needs.
PZ Party Series Clear Span Tents for Sale
Our PZ series tents have been designed in collaboration with Röder, a European leader in temporary structures. The PZ Series is perfect for small parties and other events like weddings, graduations, debuts, and more. Available with modular wall sections including cathedral windows or clear vinyl walls, this could be the flexible solution that your events or hiring business needs.
Venue Series
Get the most competitive clear span tent prices for the small/mid-sized market when you choose the Venue Series. Components are designed to be easier to manage and tents can be set up quickly with small teams, helping to increase your bottom line. Our Venue Series tents use 25 oz. vinyl and aluminum support structures and are suitable for both short and long-term use.
Event Series Clear Span Tents for Large Events
Beauty and durable design come together perfectly in the Event Series clear span tents from Anchor. These are some of our most popular tents for corporate functions, hospitality rooms, resorts, weddings, and even large trade meetings. Available in full clear configurations the Event Series can provide your clients the option to hold stunning events under an unobstructed day or night sky.
Expo Series – The Best Clear Span Tents for Large Corporate Events
The Expo Series clear span tents take capacity and space up to another level. 5M bay spacing and standard widths of 20M or 30M mean that you can offer a tent service for even the largest corporate meetings, trade expos, conferences, commercial events, and the Expo Series can even be used for temporary warehousing. Choose the Expo Series when you want to provide the largest tents without compromising beauty or practicality.
Solution Series Tents for High-End Long-Term Installation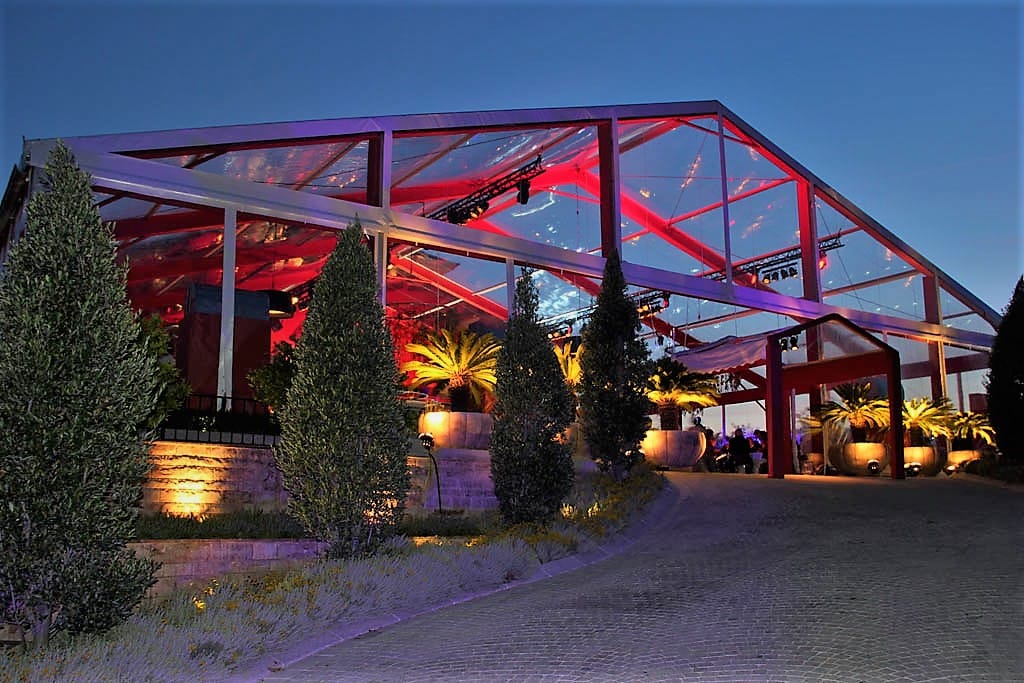 You and your clients will have unique demands when it comes to long term installation. Whether you need a tent for an extended exhibition, temporary showroom space, or even a semi-permanent entertainment venue, the Solution Series will exceed your expectations.
Solid walls and durable structures offer the absolute best in wind and weather resistance. Choose the Solution Series when you want temporary structures that create visual impact like no standard tent can.
Create Incredible Temporary Structures with Double Decker Clear Span Tents
Double Decker clear span tents are some of the most impressive that we have to offer today. Suitable for large events of any kind, including automotive shows, corporate events, entertainment, hospitality, and much more.
The Double Decker series is compatible with solid walls, clear vinyl walls, and cathedral windows. Accessories can offer flexibility for your events management or hiring business. First floor extensions, staircases, balconies, and even tiered seating can be ordered as required.
Discover the Best Clear Span Tents for Sale Today
Anchor Industries Inc. leads the market with the most innovative clear span tents available today. Flawless presentation, modular designs, the highest safety standards, and durability all come together to make an incredible investment.
Contact our sales team today for expert support and the latest clear span tent prices.